Women of the ELCA
Our mission is mobilizing women to act boldly on their faith in Jesus Christ.
As a community of women created in the image of God, called to discipleship in Jesus Christ, and empowered by the Holy Spirit, we commit ourselves to grow in faith, affirm our gifts, support one another in our callings, engage in ministry and action, and promote healing and wholeness in the church, the society, and the world.
---
2023 Gathering Registration Information
2023 Gathering Registration Form – Women of the ELCA
Southeastern Pennsylvania Synodical Women's Organization
Celebrate!
'Shout to the Lord, all the earth. Serve the Lord with joy; come before him with singing.  The Lord is good. His love is forever, and his faithfulness continues through all generations.' Psalm 100: 1-2, 5
Join us as we celebrate our Lutheran heritage and history.  Our gathering is being held at Augustus Lutheran Church, the oldest unaltered Lutheran Church in America, and we will have an opportunity to learn more as we visit 'the Old Church'. We will also hear from Amanda Bryant with Gemma Services/Martin Luther School, which was the first Lutheran Orphanage in the Delaware Valley, originally founded as the Lutheran Home in Germantown.
Our annual gathering will be held
Saturday, June 3, 2023
Registration starts at 9:00 a.m.
Gathering from 9:30 a.m. – 3:00 p.m.
at
Augustus Lutheran Church
717 West Main Street
Trappe, PA 19426
Phone: (610) 489-9625
In support of Gemma Services, we are asking participants to donate socks (adult sizes) and underwear (Youth sizes L and XL or Adult sizes S and M) as an in-kind gift.
Registration and lunch fee is $30.00/$20.00 for students. Please enclose a check made payable to 'Women of the ELCA – SEPA'. Download a Registration Form – PDF –  2023 Gathering Registration Form
MS WORD – 2023 Gathering Registration Form
Women of the ELCA Triennial
The Twelfth Triennial Convention and Gathering of the Women of the ELCA will be held in Phoenix Arizona during the week of September 18, 2023.
We are asking Active Units for nominations for voting members to the Triennial Convention. We have been alloted 4 people. One must be a first time voting member to the convention; one must be a woman of color or a woman whose first language is not English. The other two positions are open to any one. The voting members who attended our Spring Convention will be electing the voting members to the Triennial Convention in November.
We hope to resume Conference Gatherings in Spring 2023
2022 Convention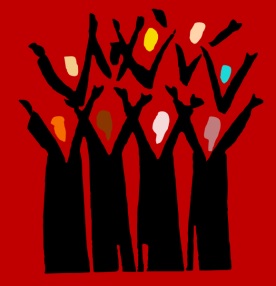 The 2022 convention of the Southeastern PA Synodical Women's Organization of the Women of the ELCA was held on June 4, 2022, at St Matthew Lutheran Church Springfield, PA.  We did something new, we met both in person and via Zoom. Voting members were also able to attend and vote via Zoom.
We began with devotions by Pastor Karl Richard, and a memorial ritual to honor those of our members who had died over the past 4 years.  We read their names beginning with Phyllis Boyer, our late president.
Our churchwide representative, Elizabeth Burgess, also joined us via Zoom. She gave greetings and an update on what churchwide is doing and the changes made during the 2021 Zoom 11th Triennial Conference.
During our business we elected new officers and board members: President, Linda Garcia; Vice President, Joy Grace; Secretary, Helen Dungan; Treasurer, Carolyn Edwards; Board members, Dale O'Hara, Joan Seader, and Sandra Zimmermann.
Bishop Patricia Davenport was our keynote speaker, urged us to wait and listen to the Lord; she used Phyllis Boyer as an example of one who did this. She gave a beautiful eulogy.
After lunch Pastors Violet Little and Schaunel Steinnegal talked about the Welcome Church, and how they are helping the homeless. They hope to be building small houses for the homeless beginning in 2023. They are being assisted by the city.
_______________________________________________________________________________________
Ingathering
As the Synod is still not meeting in person, there has been no Ingathering since 2019. Hopefully, this will change in 2023.
2019 Ingathering

The 2019 Ingathering took place on Saturday morning May 4, 2019 at Franconia Mennonite Church as part of the Synod Assembly. We thank all who donated, and all who helped with the cost of the truck, tolls and gas.. We collected $1,000 toward the $1044.49 spent. We collected
476 Mission Quilts
22 Blankets
55 Personal Care Kits
57 School Kits
47 Baby Care Kits
9  Fabric and sewing kit
---
 Resources
---
Contact Information:
Linda Garcia, President  Email: jaglsg@comcast.net
Joy Grace, Vice President Email: joygrace414lna@gmail.com
Helen Dungan, Secretary  Email: dunganh@lafayette.edu
Carolyn Edwards, Treasurer  Email: CEDS71@yahoo.com
Dale O'Hara, Board  Email: oharadvd@aol.com
Joan Seader, Board  Email: joaneseader@gmail.com
Sandra Zimmerman,  Board mail: spzimm@icloud.com
---