Women of the ELCA
Our mission is mobilizing women to act boldly on their faith in Jesus Christ.
As a community of women created in the image of God, called to discipleship in Jesus Christ, and empowered by the Holy Spirit, we commit ourselves to grow in faith, affirm our gifts, support one another in our callings, engage in ministry and action, and promote healing and wholeness in the church, the society, and the world.
---
2019 Spring Gathering: Women of the ELCA Southeastern Pennsylvania Synod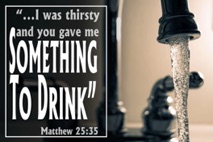 Date: Saturday June 1, 2019
Place: Trinity Evangelical Lutheran Church, Lansdale
Registration starts at 8:45
Theme:  Water of Life. We want to give thanks to God's for the gift of water and look at how we can care for it. We found out that our synod is a sister synod to Southeastern Michigan – the home of Flint; so we want to learn more about their problems. We are also aware of the problems in our neighborhoods, the Willow Grove Naval Station for example, so we want to look at what is happening here and around the world. We cannot live without water; so it is important to not take it for granted, but to care for it in whatever way is possible.
In Kind gifts:We are going to do something different for our In Kind gifts. We would like to collect bottles of water for the people in Flint. We have been told that the churches there are giving water out. Obviously, shipping physical bottles of water to the churches there does not make sense. What we would like to do is collect money in each of our congregations during Lent to give to the churches in Flint to buy water. We envision making an empty gallon water bottle available and asking folks to donate the cost of a bottle of water (or a six pack) each Sunday in Lent. Bring your bottle to the gathering; or if you cannot make it to the gathering, mail a check for the amount collected to our treasurer Cindy Ryan (1045 Nash Ave Lansdale Pa. 19446.). Our offering at the gathering will also support this endeavor.
More information to follow.
---
2019 Ingathering

The 2019 Ingathering will take place on Saturday morning May 4, 2019 at Franconia Mennonite Church as part of the Synod Assembly.
We thank everyone who contributed to the Ingathering at our Convention in June. We assembled 33 personal care kits at the convention and received the following donations from churches in our synod:
374 Mission Quilts
29 Fleece Tied Blankets
More than 83 Personal Care Kits
98 School Kits
42 Baby Care Kits
---
 Resources
---
Contact Information:
Phyllis Boyer, President   Email:
Vice-President vacant
Helen Dungan, Secretary    Email:
Pastor Sarah Stobie, Board     Email:
Sandra Zimmerman, Board     Email: 
Joy Grace, Conference Coordinator     Email:  
---