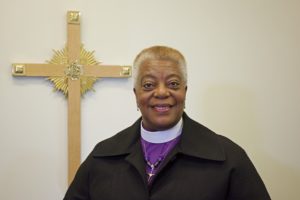 The Rev. Patricia A. Davenport was elected May 5, 2018 and took office as the fifth bishop of the Southeastern Pennsylvania Synod on Aug. 1, 2018.
Bishop Davenport is the first woman of African descent elected a bishop in the Evangelical Lutheran Church in America.
Prior to her election, Bishop Davenport served as the Synod's Director for Evangelical Mission and Assistant to the Bishop. She previously served as founding Pastor/Developer for Spirit and Truth Worship Center, a new church start in Yeadon, Pa.
She received the Master of Divinity degree from the Lutheran Theological Seminary at Philadelphia, now United Lutheran Seminary.
The bishop is an ordained minister of Word and Sacrament who is called to oversee ministry in the Synod and its congregations, providing pastoral care and leadership for congregations, pastors (Ministers of Word and Sacrament), and deacons (Ministers of Word and Service) on the roster of this Synod.
In addition to preaching, teaching, interpreting the theology of the Church and calling the Synod to mission, the bishop is responsible for coordinating the use of the Synod's staff and resources, cultivating communion in mission with ecumenical and interfaith partners, and relating to the Evangelical Lutheran Church in America and the worldwide Lutheran communion.
Scheduling Visits by the Bishop
The bishop officiates at ordinations and consecrations of rostered leaders and at some installation services. She also regularly visits congregations for special events. To invite the bishop to visit your congregation, contact Yvonne Curtis at 267.323.3747 or via email as far in advance as possible, as the bishop is often scheduled for congregation, Synod and churchwide events as much as a year in advance.
Contact