Online Giving
Make secure, online gifts any time from any computer or mobile device.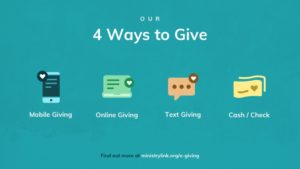 Learn about e-giving via Tithe.ly by visiting our kiosk tables at Synod Assembly! 
You can quickly and securely give to Synod causes — including the Assembly Offering, Bishop's Fund, and the All Saints Appeal, and special appeals — via the Tithe.ly platform.
There are three ways to give online:
Visit ministrylink.org and click on the DONATE link below the feature images
Download the Tithe.ly app in your device app store and search for Southeastern Pennsylvania Synod, then click Give.
Text "Give" to 267-612-3310
Download a printable version of these instructions
---
Website Giving

Visit https://ministrylink.org
Scroll below the large image and select the DONATE link at the far right of the menu (bottom right on mobile devices)
You will be directed to a secure online form in which to enter your information.
When making a gift you will have the option to create an account and set a PIN to make repeat gifts easier.
You will also have the options to cover the credit card processing costs so that the Synod receives the entire amount of your intended gift.
You will also have the option of entering bank routing information to have your gift transferred from your account.
---
Giving by Smartphone App
On your device's app store, search for and install the Tithe.ly app
In the app, search for Southeastern Pennsylvania Synod
Use the Give option to open the secure online form
---
Text To Give

Text "GIVE" to 267-612-3310
You will receive a text with instructions

If you have not used Tithe.ly before, you'll be asked for information
If you have an account, you'll receive a prompt to enter an amount

Simply type the amount (in whole dollars) that you want to contribute
You'll receive a text acknowledgement
---
Get Tithe.ly for your congregation

---