Give Now
We can do more together than we can do alone.

Rise up, O saints of God!
As we continue to explore how God is calling us to gather and serve in our changing post-pandemic world, building up the kingdom remains our central task – helping people build deeper relationships with Jesus, each other, and their communities.
The work of the Southeastern Pennsylvania Synod is to equip the saints for ministry. Learn more.
Select "All Saints Fund" from the drop-down list.
Or download this pledge form to mail with your check: Pledge Form
In this past year, three additional leaders have joined our staff helping the saints rise up to serve the gospel.
Pastor Moses Dennis and Pastor Bryan Penman shepherd our Vitality Team, envisioning a synod where our congregations shine with God's light into their communities.
The Youth and Young Adult Ministry teams of our synod are now being led by the work of Pastor Stacey-Kyle Rea, equipping youth, young adult, and mentoring-adult leaders with opportunities to serve, learn and experience Jesus in their daily lives.
Our Communications Team, led by Pastor Bob Fisher and assisted by Ms. Cynta Outterbridge, is excited for new possibilities for keeping you connected with synod ministries. And we want to tell your congregation's story, as well.
The Candidacy Committee gathers with Pastor Karen Sease to support people who are wondering if God is calling them to be a pastor or a deacon in the ELCA. Right now, there are 34 people between the beginning stages of inquiry and waiting for their first call.
Under the leadership of Pastor Marcia Bell and with assistance from Ms. Yvonne Curtis, the Committee of Deans gathers monthly to work through congregational leadership transitions and the other needs of our 143 congregations. So far in 2022 more than a dozen congregations have called new rostered ministers.
In a world that keeps trying to scatter the people of God among divisions of race and sexuality, our Anti-Racism Team and our Inclusive Communities Team (supporting LGBTQIA+ disciples) gather to remind us that each person is created in the image of God.
Gather with us in these ministries! Read MinistryLink.org for ways to participate. Pray for our work together. Give generously and invest in this witness.
Select "All Saints Fund" from the drop-down list.
Or download this pledge form to mail with your check:
---
Congregation Mission Support
Congregations may make an offering to Mission Support by sending a check to:
Finance Office
Southeastern Pennsylvania Synod
7241 Germantown Avenue
Philadelphia, PA 19119
---
Bishop's Discretionary Fund
This fund allows the bishop to respond to unforeseen needs, particularly in support of rostered ministers. Customarily, offerings from ordinations and other services presided over by the bishop are made to this fund.
Select "Bishop's Fund" from the drop-down menu.
---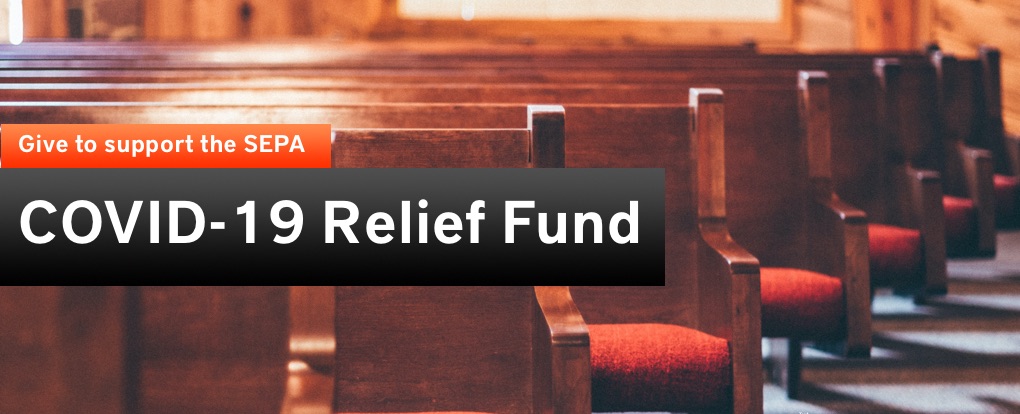 COVID-19 has forced rapid changes in our SEPA congregations – in the ways we worship, provide pastoral care, and serve those in need in our neighborhood. We have been blessed with the love of Christ, with technologies to connect us during physical distancing, with creative rostered ministers and lay leaders who keep our churches praising God and serving neighbors. Yet we know that many are hurting in our church and local communities.
Many of our ministries are blessed to be self-sustaining during this time. Some, though, need additional support to keep caring for the people of God and/or meeting growing needs in their neighborhoods. Scripture tells us that we are blessed to be a blessing to those who are in need.
Give to the SEPA COVID-19 Relief Fund
Select "COVID-19 Relief" from the drop-down menu

Join us in supporting our SEPA Synod COVID Relief Fund. If you can give some of the stimulus check or are blessed with other financial resources at this time, please help us help struggling congregations continue their important mission. Every dollar raised will go directly to congregations and their outreach ministries. In honor of our synod's spirit of generosity and the abundance of God Almighty, the first $2000 raised for the SEPA COVID-19 Relief Fund will be matched.
If you would like to be our next matching donor (at a level of $1000 or more), please contact Pastor Karen Sease at (267) 323-3744.
You can make a one-time gift, or arrange recurring giving via credit card, Apple Pay, or electronic transfer from your bank account at this link (mobile friendly).
---