2021 Synod Assembly Information
Hear Pastor Larry Smoose, our parliamentarian, explain Assembly procedures and new changes to facilitate our online Assembly.
The changing times of this pandemic have forced us to rethink how we hold meetings and equip leaders and congregations — and the 2021 Synod Assembly is no exception.
This Assembly in sacred cyberspace is just one more example of how the Synod staff, rostered ministers and congregations have adapted our ministries to the "new abnormal" of the coronavirus pandemic.
"I'm inspired by the ways that congregations and leaders have pivoted to online ministry. Now the Synod Office is stretching to host an online Assembly that will create community while keeping everyone safe during this ongoing public health emergency," says Bishop Patricia A. Davenport.
Watch this video for an introduction to the Lumi platform:
Our platform requires that each member is able to connect to the meeting via Internet. The basic requirement is having a desktop or laptop computer with a working Internet connection suitable for Zoom, a microphone and speakers. Visitors and general viewers will NOT participate with the Lumi platform. The meeting will be streamed on YouTube and our website.
While the full functionality of our meeting platform within one browser window is only available on a desktop or laptop PC, there are ways to participate using two tablets or smartphones.
It is possible for a voting member to participate in the Zoom meeting on a tablet (iPad, Android, etc.) They will need an additional device, another tablet or a smartphone (iOS or Android) to join the meeting for voting, joining the speaker queue, etc.
If two persons in the same household are participating, one can log into the meeting normally and the second person can log in to the platform on a tablet or smartphone in order to vote.
It is also possible for a congregation to set up a "watch party" – in-person viewing provided participants can be masked and distanced 6-feet apart, and virus conditions in your community support a small, in-person gathering. Note: If case rates and spread increase in your community to a dangerous level, we do not recommend a "watch party" gathering. At a "watch party" a host would sign into one computer with camera, mic and speakers and show the Zoom meeting to the group (preferably on a larger monitor). Each participant, then, would require a tablet or phone to log in for voting purposes.
This year's Assembly will be totally online. And because most people would find it tedious to be logged in to an online meeting for two full days (our usual Assembly schedule), we have pared down the agenda to fit into one day. The online business meeting will be on Saturday, April 24, starting with registration from 8-9 am and concluding with an evening session 6-8 pm
Synod Assembly Program
31st Meeting of the Assembly Southeastern Pennsylvania Synod
Theme: Serving an Unchanging God, in Changing Times "Jesus Christ is the same yesterday and today and forever." Hebrews 13:8
Note: Times are approximate. We will make every opportunity to include the scheduled items in each plenary session. However, participants should monitor the meeting for announcements or changes from the chair.
Click a heading below to see more.
One-day business meeting Saturday, April 24.
Online, interactive meeting.
All congregations can register an additional youth/young adult voting member.
Register early: Until March 5, the cost is $110 per person. March 5-26, cost increases to $140.
All registrations must be received and payments postmarked by March 26. There will be no late or "at the door" registration.
The Assembly will feature a one-day, Saturday business session. 
All presentations, floor discussions, and voting will take place online. 
You can attend from the comfort of your home.
Two-tiered registration: Register early by March 5 and save.
Voting members will need computer/internet access and a unique email address.
Some presentations will be available before the business meeting for viewing or discussion.
We plan to offer an in-person worship, fellowship, and learning event later in the year when it is safe to gather in groups again.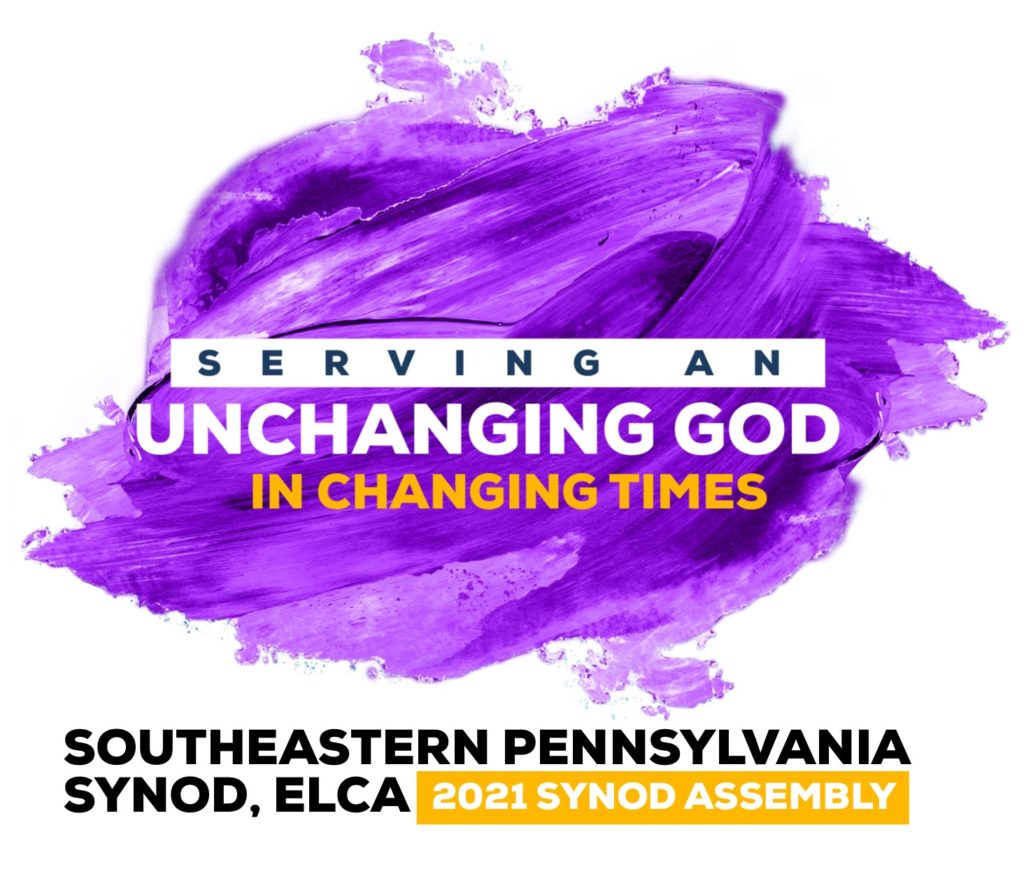 About our logo: Designer Katie Simbala says that "I used some paint brushes, thinking of God as the artist. [God] doesn't change, but the works of [God's] hands do. So in changing times, there is uncertainty. I imagined that every once in a while the artist would need to clean his brush. Maybe these changing times are just a paint blot in the grand scheme of it all."
Registration Information
---