Women of the ELCA
Our mission is mobilizing women to act boldly on their faith in Jesus Christ.
As a community of women created in the image of God, called to discipleship in Jesus Christ, and empowered by the Holy Spirit, we commit ourselves to grow in faith, affirm our gifts, support one another in our callings, engage in ministry and action, and promote healing and wholeness in the church, the society, and the world.
---
2019 Spring Gathering: Women of the ELCA Southeastern Pennsylvania Synod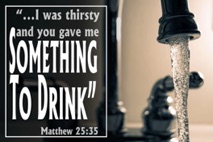 Our 2019 Gathering was held on Saturday June 1, 2019 at Trinity Evangelical Lutheran Church, Lansdale. We had a brief business meeting to vote for voting members to represent us at the 2020 Triennial Convention being held in Phoenix, AZ.  Joyce Adams was elected on ticket 1 ( Women of Color); Patricia Leberman was elected on ticket 2 (first time attendee) and Cindy Ryan and Helen Dungan were elected on ticket 3. Joy Grace, Pastor Gwendolyn King, and Joan Seader were elected as alternates.
Our featured speaker, Trudy Phillips, spoke about how our water ways run and what affects them. She began with a dramatic demonstration; she had 5-gallon bottles of water; from this she measured out 1 1⁄4 cups – this represented fresh as opposed to saltwater. She then used an eye dropper to show the amount of that water which was drinkable.
We had an update on the situation in Flint Michigan; Pastor Monica Villarreal, of Salem Lutheran Church had given us information to share. They and Shiloh Baptist Church are delivering water to 170 vulnerable homes – people with immunity impairments which make them extremely susceptible to infection. The cost of this mission runs about $5,000 per month and is being paid for by donations. We collected $1,582.54 for Flint and thank all of you who donated to this project. We also wrote letters of encouragement to both the workers and the recipients of care, letting them know they were not forgotten.
Our third speaker was Hope Grosse who with Joanne Stanton recently formed the Buxmont Coalition for Safe Water, website https://www.buxmontwater.org/. She spoke of the dangers of PFAS in our water, and recommended everyone install a reverse osmosis water filter. She showed the video on their website; it highlights the health problems this chemical causes. It is worth watching.
Our 2020 Convention will be held on Saturday June 6th. Bishop Davenport will be our keynote speaker. More details will follow.
Conference News
The theme for the Fall 2019 conference gatherings is Being Family. The theme verse is Proverbs 22:6, "Start children off on the way they should go, and even when they are old, they will not turn from it."
Upper Bucks Fall Gathering will be held on Saturday November 2nd at Peace-Tohickon Lutheran Church, Perkasie. It will be a breakfast meeting with the program on Being Family
Upper Montgomery will hold their Fall Gathering on October 26, 2019 at Augustus Lutheran Church, Trappe. The speaker is Rev. Dr. Martha Kriebel and the topic is Being Family. They will begin with coffee and conversation at 9:30. Download the flyer for more detailed information UB WELCA Conference flyer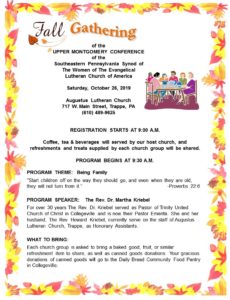 ---
2019 Ingathering
The 2019 Ingathering took place on Saturday morning May 4, 2019 at Franconia Mennonite Church as part of the Synod Assembly. We thank all who donated, and all who helped with the cost of the truck, tolls and gas.. We collected $1,000 toward the $1044.49 spent. We collected
476 Mission Quilts
22 Blankets
55 Personal Care Kits
57 School Kits
47 Baby Care Kits
9  Fabric and sewing kit
---
 Resources
---
Contact Information:
Phyllis Boyer, President  Email: frauphilly@gmail.com
Vice-President. Linda Garcia  Email: jaglsg@comcast.net
Helen Dungan, Secretary  Email: dunganh@lafayette.edu
Cindy Ryan, Treasurer  Email: cindyryan817@gmail.com
Joyce Adams, Board  Email: jadams7582@gmail.com
Dale O'Hara, Board  Email: oharadvd@aol.com
Joan Seader, Board  Email: joaneseader@gmail.com
Sandra Zimmerman,  Board mail: spzimm@icloud.com
Joy Grace,  Ingathering Coordinator Email: jgrace@partneresi.com
---