2022 Synod Assembly
Saturday, April 30, 2022
Hope For Today, Strength For Tomorrow Through Community In Christ
The 2022 Synod Assembly will be held on Saturday, April 30 as an online business meeting. Conferences will participate in service projects on Saturday, April 23, and an in-person gathering will be scheduled later in the year.
The theme for this year's gatherings is Hope for Today, Strength for Tomorrow Through Community in Christ.
Check back in February for registration information.
Menu: Logo Contest▼ | Service Day Volunteers Needed | Tech Volunteers
---
You Can Change The Church
A Pre-Assembly Web Forum with the Reference and Counsel Committee
Join us February 3 at 7:00pm on Zoom to learn:
How you can create changes in the church through the Synod Assembly
What's the difference between a resolution and a memorial?
Ways to write an effective resolution
The deadline to submit resolutions for consideration by the assembly is 3/30/22
---
Be part of the Service Day Planning Team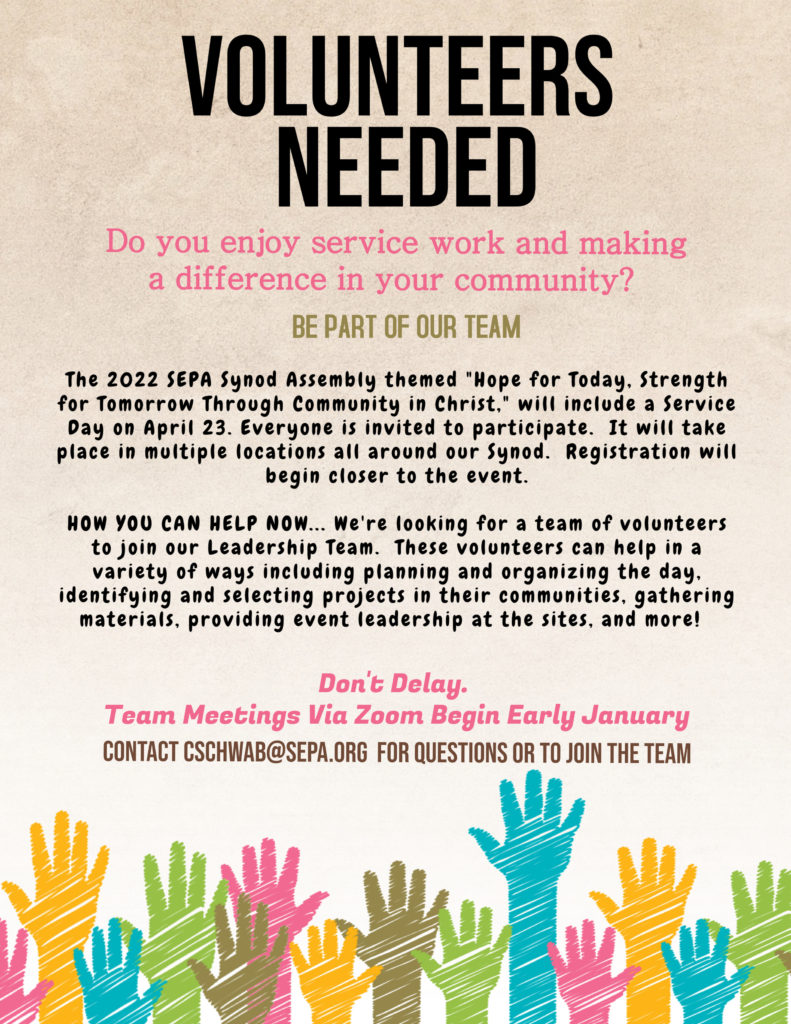 ---
Tech Support Volunteers Needed
We're looking for a few individuals who would be willing to provide tech support to Assembly voting members, via telephone. Support volunteers will be asked to learn our Zoom protocol and our voting software, and assist people with questions and issues. If you or someone you now has basic tech skills and a desire to help others, contact Pastor Bob Fisher via email at comms <at> sepa <dot> org.
---
Archive
Do YOU have our missing logo? We need your help!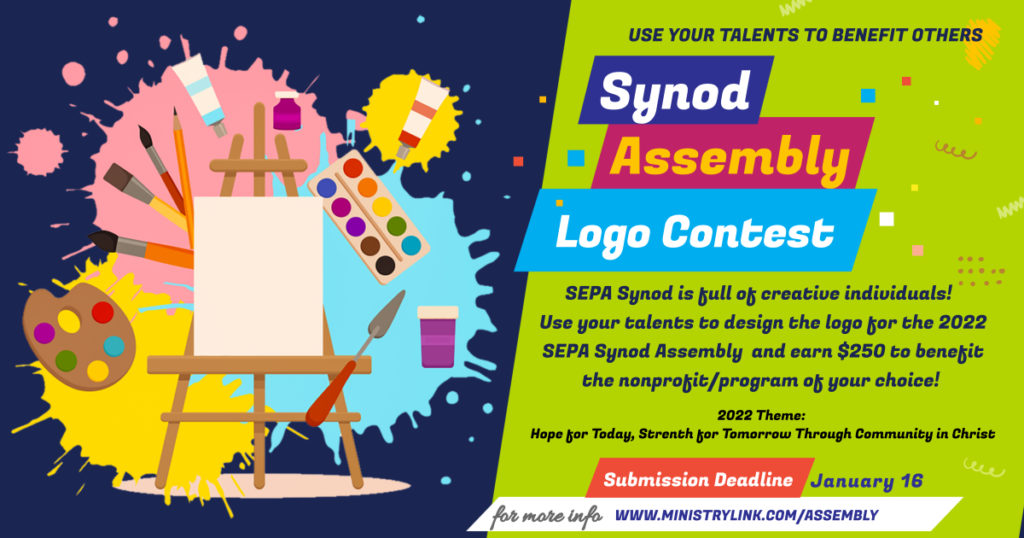 SEPA Synod is full of creative people.
We are looking for those individuals to help design the logo that will reflect our 2022 SEPA Synod Assembly theme:
Hope for Today, Strength for Tomorrow Through Community in Christ.
In the process you can earn a $250 donation to your favorite charity.
Design Details
Design must be the original work of the submitter.
Logo must relate to the theme.
Logo may include any colors.
Designer may create with pencils, crayons, markers, paint, or may be created with a computer drawing program. Hand drawn logos must be scanned for submission. (We will need the original if your design is chosen.)
Logo should be simple, not overly detailed, and all elements must be able to be reproduced in large and small sizes.
A square format is preferred.
Submission
You may submit more than one entry.
Submitted images must be a minimum of 6 inches by 6 inches.
Electronic submissions must at least 600 dpi resolution and be in .png, .jpg, .tiff, .eps, or Adobe Illustrator file formats.
Designs must be uploaded to this Dropbox folder: https://www.dropbox.com/request/uQKQB6Fb6OtT2dWebI4K
Deadline
Designs must be received by Sunday, January 16, 2022
Judging
The winning logo will be chosen by the Synod Assembly Leadership Team. Entries will be judged on their visual appeal, adherence to the theme, quality of design, and ease of reproduction. The judges' decision will be final. Judges reserve the right to not select a winner if no suitable entries are received. Winner will be notified by email by February 1, 2022.
Intellectual Property
SEPA Synod will acquire ownership of the winning logo and it may be used for any purpose including but not limited to our website, Assembly meeting platform, social media, and promotional materials. By submitting a logo for entry in the competition, the designer acknowledges that the entry is their own original work and does not violate the intellectual property rights of any other individual or entity.
Prize
Winner will receive a $250 donation to the charity of their choice.
---