Communications, Faith in action, Mission, News, Roster, Vocations and Leadership
November 11, 2013 in
Little Receives 2013 Purpose Prize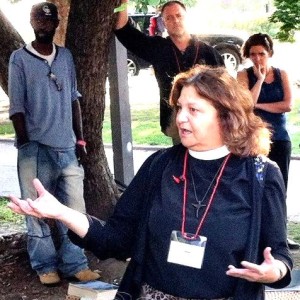 Welcome Church Pastor Violet Little honored with prize for people over 60 solving tough social problems.
The Rev. Violet Little, pastor of Philadelphia's Welcome Church ministering to people experiencing homelessness, is one of seven winners of the 2013 Purpose Prize, which honors people over 60 who are using their "second acts" to make a difference against tough social problems.
Little will receive an award of $25,000 from Encore.org, a non-profit organization that supports people who are translate their decades of experience to work of society's greater good. Seven leaders who serve veterans, federal prisoners, cancer survivors, homeless people and others among "the least of these" will receive awards at a ceremony Dec. 5 in California.
"Some have said I am a voice for the voiceless, but that's not true," Little said after learning of the prize. "People experiencing homelessness have voice; the key is how we can be better listeners."
Little wants the Promise Prize to amplify the voice of the Welcome Church community. Much of the award will be dedicated to an "I Have a Dream" fund, through which Welcome Church will give grants to other congregations "to stimulate people's imagination of how to live out Martin Luther King's vision of justice in their setting," she says.
The goal is for grants to be determined by members of the community, who will also be available as mentors to help congregations implement their vision, Little said. "Who better to know what will work for people in poverty," she said.
"Little is redefining the concept of "church" as she pastors Philadelphia's homeless (people) in a church without walls," Encore.org said in its announcement.
Little began working with people experiencing homelessness after she got to know women washing and sleeping in restrooms at Philadelphia's 30th Street Station, which she visited on her daily commute. She initially organized a drop-in center at the Lutheran Church of the Holy Communion in center city, known as the Welcome Center.
"People who live on the streets are always being rousted and asked to move on," Little says. The Welcome Center allowed members of the community a safe place to spend a couple of hours having tea, watching movies, or napping.
As the community formed, Little was soon asked to provide pastoral care, visiting people in the hospital, performing a wedding, even identifying the body of a community member who died on the street.
She organized support from the Southeastern Pennsylvania Synod and the ELCA, Holy Communion and other center city churches, to form Welcome Church, which Little serves part-time along with Presbyterian and Episcopal clergy.
Using a model pioneered at Boston's common cathedral, Welcome Church is mobile: Worship services pop up along the Ben Franklin Parkway or in Suburban Station; tea time, bible studies and medical care happen in a variety of downtown churches; meetings take place in coffee shops or bookstores; and Little meets her parishioners in railroad stations or under bridges.
"These are people who know they're hungry for more than a peanut-butter and jelly sandwich," Little says. Welcome Church offers help finding housing, with local churches contributing "welcome home kits" to help members settle into apartments. A new social enterprise called Welcome Threads is producing original t-shirts and hand-woven products and offering members job skills and the chance to earn a little money.
On Tuesdays, Welcome Church gathers at Holy Communion for what members call their Tuesday banquet. "Everything we do centers on the table as a symbol of home," Little says. Tea is out, and members bring what they can – some mint, some rescued bread, or cookies. And of course, the sacramental bread and wine.
"People think of this as a community of scarcity," Little says. "But it's really a community of great abundance, because God is at the center."
Story by Bob Fisher, assistant to the bishop for mission interpretation.
Related Articles:
God made personal at Welcome Church
Center City Church Welcomes Homeless
The Welcome Church installs pastor
Judge Blocks City's Homeless Feeding Ban
Churches Appeal of Feeding Ban Heard
Suit Challenges City's Ban on Feeding Homeless
Presiding Bishop says ELCA is Freed to Serve
Hope and Hospitality at The Welcome Church
Welcome Church remembers winter's victims
More Resources:
"Abundance" Video
Stations at the Station Video (Good Friday, 2013)
Welcome Church "Stations at the Station" from SEPA Synod on Vimeo.
God is Personal At the Welcome Church
God is personal at the Welcome Church from SEPA Synod on Vimeo.
ELCA News Service Video (Spring 2011)
Welcome Church photos: