Congregations, Connecting, ELCA, Faith in action, Giving
February 10, 2021 in
Your congregation can sponsor a missionary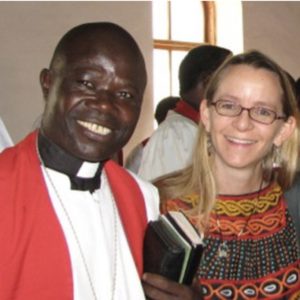 Dear friends:
Bethany Friberg works as an ELCA missionary in Ketumbeine, Tanzania, but her definition of missionary service is much more expansive. She believes all Christians are missionaries.
"I'm always struck by how wonderful it is when people have committed their life to the Lord and are praying, 'Lord Jesus, show me how to live out my Christianity today,'" Bethany said. "That's what a missionary is." Hear more in the "
All Christians Are Missionaries
" video.
There are many misconceptions about missionaries, rooted in the truth of a troubled history — often that missionaries reinforce colonialism by showing up uninvited, taking charge, and pushing Western practices and viewpoints. However, ELCA missionaries are trained to work in active opposition to colonialism, following the lead of our companions first and foremost.
Here are three important characteristics of ELCA missionaries:
Missionaries are invited. Global companion churches identify opportunities for ELCA missionaries and extend invitations to fit their specific needs. Candidates can apply for these skills-based positions on the ELCA careers page. The ELCA sends missionaries only at the invitation of companions. (See the list of companion synod relationships in
this chart
.)
Missionaries are learners and followers. ELCA missionaries learn from the experts — our global companions — and follow their leadership. They work in a spirit of accompaniment, or the practice of walking together with Lutheran, ecumenical and interfaith siblings around the world.
Missionaries are culturally competent and anti-colonialist. Working as a missionary is an ongoing learning journey that involves adapting to culture, mastering languages and subverting colonialism to serve in a spirit of accompaniment. ELCA missionaries dedicate themselves to this work.
Right now, ELCA missionaries and our global companions are facing the challenges of the COVID-19 pandemic, and your support is even more critically needed. Your congregation can engage at this key moment.
Here is the covenant form
to sponsor a missionary in 2021, which you can email to
. Your congregation can also
make a gift
to a missionary.
Thank you for your congregation's faithful support of God's work around the world!

Yours in Christ,

Rahel Mwitula Williams
Director, Global Mission Funding
Evangelical Lutheran Church in America

Rev. Robin Brown
Director, Congregational Mission Funding
Evangelical Lutheran Church in America