Share the Right Address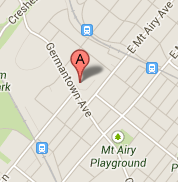 With all the digital tools available to help us navigate, it's important that you identify your church in ways that allow people to use GPS or web mapping services to find you, while respecting local knowledge and traditions.
Always use a full address in your publicity, including zip code, to make it easy for people to enter your address into a map service or GPS.
Occasionally check to see that entering your address in different map services and GPS units actually provides directions to your church, and update if necessary.
If your church receives mail at a different address, make sure that your website, emails and print communications clearly specify your physical location and mailing address
If your church is one of the many that is known by a location other than its zip code – for example, St. John's, Mayfair (in a neighborhood of Philadelphia) or Trinity, Pleasant Valley (assigned a Coopersburg zip code) – include this in the church name (as I just did) and include the official street address.
Don't leave people to guess. For example, a Google search on St. John Lutheran Mayfair points to the church as the top hit, because their web address is stjohnsmayfair.org.  Entering the same search text into Google Maps, however, yielded a picture of St. John, Melrose Park, under the heading "St John's Lutheran near Mayfair."
One in a series of communications tips from Bob Fisher, assistant to the bishop for mission interpretation.