Faith in action, Global Vision, SEKOMU
November 21, 2018 in
SEKOMU Raises Up Special Education Leaders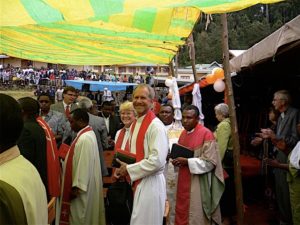 What do you do when you lack qualified people to help with your ministries? Well, you could start a university to train qualified people.
That's what the North Eastern Diocese of the Evangelical Lutheran Church in Tanzania was facing, and what it did, according to Bishop Munga. Speaking at a Meet & Greet at Advent Lutheran Church in Harleysville, Bishop Munga talked about shortages they had faced in the early days of his leadership as bishop.
The North Eastern Diocese (NED) had some strong serving ministries, including the Irente School for the Blind, the Irente Children's Home (orphanage), and Bambuli Hospital. Shortly after Bishop Munga started serving, his wife and colleague in ministry, the Rev. Dr. Anneth Munga, helped begin the Irente Rainbow School, a school for training and education of children and youth with intellectual disabilities.
The ministries were needed. God's work was being done. However, finding qualified people – not just warm bodies but people who were equipped to work in and lead those caring ministries – was tough. If a person left, finding a replacement was nearly impossible. But because those ministries were important, finding a skilled replacement was critical.
If you can't find them, make them. This was part of the inspiration of the Rev. Dr. Anneth Munga ("Mama Munga") in visioning and proposing a new university. The university would provide for a variety of specialties (administration, education, ecotourism, law) but all with a core training in special needs education and advocacy.
This was a crazy vision, a God-sized vision, and a couple years later it became a reality. After incredible commitment and support throughout the diocese, amazing leadership and dedication by Mama Munga and so many others, partnerships with our Southeastern Pennsylvania Synod of the ELCA (SEPA) in helping them with their vision, and a whole bunch of God-moments, in October of 2007 the university was dedicated. Nearly half a million dollars were raised in SEPA as well as writing the entire original curriculum and assisting with setting up the IT systems. We thank God for this partnership and the amazing accomplishments achieved. The first graduating class had 132 students. Currently there are over 2,500 students being educated on several campuses.
Now, 11 years later, SEKOMU (Sebastian Kolowa Memorial University) continues this critical work, providing qualified and caring leaders with training in special needs education who are at work throughout the country in government, schools, church, and private industry. The diocese ministries are blessed, and lives are changed. And everyone counts!
–Pastor Mark Singh-Heuter, Advent, Harleysville