Coordinator for Congregational Vitality, Discipleship Ministries and Receptionist
Mercedes provides support to Pastor Davenport and the congregational vitality programs, and to Pastor Burke and the youth, young adult and faith formation programs. She also serves as the synod receptionist. She graduated from LTSP 2017 with an M.A., Religion Concentration: Public Leadership and Certification in Youth Ministry. Mercedes holds a B.A., Mass Communications – Broadcasting. She spent six months as part of the Young Adults in Global Mission (YAGM) program in Fatick, Senegal and returned to the United States January 2018.
The Rev. Bradley Burke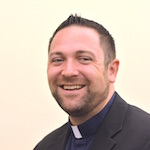 Assistant to the Bishop for Youth, Young Adult and Spiritual Formation
Pastor Burke works with the Synod's youth ministry programs and volunteers, and will work to expand ministries with young adults. He will also lead efforts to enhance spiritual formation across the Synod.
Pastor Burke, a native of Northeastern Pennsylvania, has served congregations in Delaware and Chester Counties, assisted congregations in building and growing effective confirmation and youth ministries and has helped to plan, coordinate or lead events such as Helping Hands Day, the SEPA Ingathering, and the Synod's Young Adult Mission Trip to Cherokee, NC. He has also accompanied Young Adults from our Synod to serve at the ELCA Youth Gathering in Detroit, and has a passion for raising up young people as leaders and innovators in the church.
Before joining Lutheran Charities he served at St. Michael Lutheran Church in Unionville and St. Timothy's Lutheran Church in Aston. He is a graduate of the University of Scranton and the Lutheran Theological Seminary at Philadelphia, and currently lives in Downingtown with his wife Kim and four-year old son Liam.