Holy Closure: Bethany, Roxborough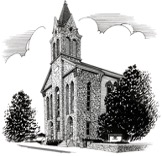 Remembering in prayer the saints at Bethany Lutheran Church
Bethany Lutheran Church, a congregation of the Central Philadelphia Conference, will hold their final worship service on Sunday, November 20, 2022 at 3:00 pm with Bishop Davenport presiding.
Rostered ministers and members of the SEPA Synod are welcome to attend the final service at Bethany as we celebrate the life, witness and service of this congregation to the Roxborough-Manayunk community since 1845.  Rostered ministers not participating in worship leadership are invited to sit in the congregation.
Bethany Lutheran Church is located at: 401 Martin Street, Philadelphia, PA 19128.
Brief history of Bethany Lutheran Church
In the beginning, German was the language of Bethany. It wasn't until 1934 that an English service was offered. You could still hear the Word in German until 1970.
The first church building was on Martin Street, where the Bethany cemetery is now located. Our current church building was constructed beginning in 1873 and completed, with the addition of the bell tower, in 1902.