Help Local Kids Get Summer Meals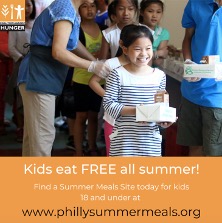 From the Greater Philadelphia Coalition on Hunger:
Understanding Summer Meals
Summer Meals is a federally funded, state administered program for the five-county region. Program administrators distribute food to community members and organizations, and are reimbursed for the cost of the meal. Community partners distribute the meals to kids, ensuring that they are well nourished when they are not receiving school meals.
Given the unique challenges of feeding children and conducting outreach during the COVID-19 pandemic, the Greater Philadelphia Coalition on Hunger seeks organizations, agencies, individuals, and any who cares about kids getting enough to eat to help spread the word about the Summer Meals program. Without strong promotion throughout the region, children will miss out on this critical resource during an already vulnerable time. To assist with promotion, we have created flyers, social media graphics, and sample social media posts. Please feel free to share any of the following resources widely throughout your network. PROMOTIONAL RESOURCES >
Finding a Site Near You
For the five county Southeastern Pennsylvania Region (SEPA), there are several ways to locate a site where your children can get a meal.
The mobile friendly map includes summer meals sites sponsored by all providers across the 5-county region and will be updated weekly as sites change throughout the summer. All sites listed on the map are "open sites" meaning children should be able to show up and be served without signing up or completing additional paperwork.
The Coalition Against Hunger's Summer Meals Hotline 1-855-252-MEAL
For those who prefer individualized assistance, the Coalition Against Hunger will also be running a summer meals hotline. This summer, we are asking all callers to leave a message including their name, zip code, and phone number (repeated twice). Clients will receive a call back within 48 hours from a Coalition representative who will help them locate summer meal sites in their neighborhood
The City of Philadelphia food resources map provides information about food distribution sites, senior meal sites, outdoor meal sites, and summer meal sites (student meal sites) in the City of Philadelphia. Unlike the Coalition Against Hunger map, the City map will only list summer meal sites sponsored by the city.
Promoting Summer Meals
Flyers
Click on the links below to be taken to color and black & white printable PDF versions.
Social Media Graphics
Click the links below to be taken to usable social media graphics
Sample Social Media Posts
Outreach
If you would like additional assistance promoting the Summer Meals Program, please contact Coalition Against Hunger Community Educator Katie Milholin at or 215-430-0555 ext. 108.
While our office remains closed due to COVID-19, we are able to attend and host virtual outreach events, as well as in-person events on a case by case basis. Please do not hesitate to reach out and let us know what you need!
COVID-19 Changes
In response to COVID-19, USDA has approved several waivers to allow for greater flexibility and safety in the program. The following changes have been approved through August 31.
Non-Congregate Feeding: USDA has waived the requirement that meals be served in a congregate setting, allowing meals to be eaten outside of the standard group format. Many sites are serving meals "grab & go" style.
Meal Times: USDA has approved a waiver allowing meals to be served outside of the standard meal times. Some sites are choosing to use this flexibility to allow several meals to be distributed at one time and taken home.
Parent/Guardian Pickup: To promote social distancing and limit exposure to COVID-19, USDA has approved a waiver that allows meals to be picked up by a parent and/or guardian, even if the child is not present.
Area Eligibility: DHS is allowing sites to waive the requirement that "open site" meal service is limited to areas with a certain percentage of low-income households. With this change, all children will be able to be served at all sites without completing additional paperwork, unless the site has requested to be designated as a "closed site".
Please note that while these waivers have been approved for the state of Pennsylvania, each site will be making decisions about summer food service individually. We suggest you bring your child if possible on the first day you attend and learn the exact procedures your site is following this summer.