Finding God In The Glories of Summer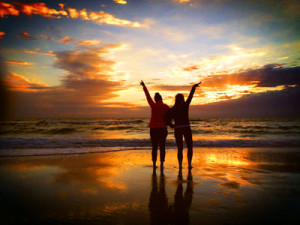 How are you finding God today?
As I write to you today it is a beautiful, hot, summery sunny day. Many of us long for summer, and after a winter like we have just endured, it is more welcome than ever! I love the light, and the sounds and smells of summer: the brightness and the shade, the length of day; the chirping of birds, the buzzing of insects, the rustling of leaves, the absolute quiet; the smell of earth and flowers, and tomatoes on the vine.
These things evoke for me a sense of peace, and home, and rest. I have a feeling inside like a hymn of praise being sung to God without words or tune, but a deep feeling of gratitude and a smile of appreciation as I take in the beautiful things around me. The small graces are the everyday reminders of the goodness of the loving God, Who not only creates life and redeems it, but Who also fills life with beauty, place, and sense of well-being. It is good to be reminded that we are alright, and that we are loved and cared for in this moment.
What do you love about summer?
Whatever it is that moves you, I encourage you to take a moment to notice it, feel it, and enjoy it.
In what way does your favorite thing about summer make you think about God?
What would you like to say to God about this (with our without words)?
Gerard Manley Hopkins, SJ wrote a beautiful prayer that speaks to the experience of his favorite things:
Glory be to God for dappled things –
For skies of couple-colour as a brinded cow;
for rose-moles all in stipple upon trout that swim;
Fresh-firecoal chestnut-falls; finches'wings;
Landscape plotted and pieced – fold, fallow, and plough;
And all trades, their gear and tackle and trim.
All things counter, original, spare, strange;
Whatever is fickle, freckled (who knows how?)
With swift, slow; sweet, sour; adazzle, dim;
He fathers-forth whose beauty is past change;
Praise him.        
From Hearts on Fire edited by Michel Harter, SJ (Chicago: Loyola Press, 2005)
Peace to you and grace in the gift of this day.
The Rev. Leslie M. Richard
Facilitator, SEPA Faith Formation Team