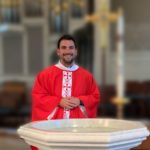 A service of Holy Communion and the Order of Installation of the Rev. Fritz E. Fowler as Lead Pastor of Trinity Lutheran Church on October 10, 2021, at 4 pm. The musical prelude will begin at 3:40 pm.  The Preacher is Deacon Sue E. Rothmeyer, ELCA Secretary and the Installing Minister is The Rev. Bryan Penman, Dean of Lower Montgomery Conference.
Following worship, all are invited to a reception on the lawn.
Please RSVP by September 30, to attend the reception.
The service will be livestreamed on Trinity's Facebook page and website, trinitylansdale.com.  For questions call 215-368-1710.
Facemasks and physical distance are required indoors.