Black History Month: More Lutheran Roots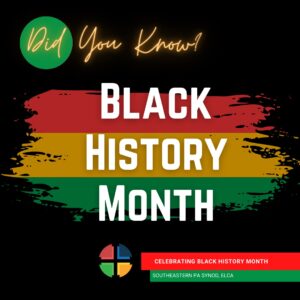 We've learned more about the full work of Henry Melchior Muhlenberg at Augustus Lutheran church, Trappe, welcoming Americans of African descent.
Muhlenberg arrived in British North America in 1742. At the consecration of the original Augustus Lutheran Church building on October 6, 1745, which is still standing and in use today, Muhlenberg celebrated adult baptism for three enslaved Africans of Mr. Pawlings, a churchwarden of the neighboring St. James Episcopal Church, Evansburg. The Episcopalians were not willing to baptize enslaved Africans in their own church. Mr. Pawlings stated at the time, "Dutch baptism was good enough for blacks."
John, Jacob, and Thomas Pawlings, who had been instructed in the Christian faith by Muhlenberg, were baptized at Augustus during the Service of Consecration of the original church. Peter Brunnholtz, Tobias Wagner, and Lawrence Nyberg (Newberg) acted as their sponsors. There were members of African descent at Augustus for many years after Muhlenberg's time.
Later, when Muhlenberg was at the former St. Michael's in Center City Philadelphia (not the church in Germantown), John came to him and asked if he would baptize his daughter, Susannah, which Muhlenberg did on September 9, 1763.
Augustus Church baptismal records show that Muhlenberg baptized enslaved Africans Robert Marks on April 8, 1759 and Margreth Marks on September 20, 1761.
Americans of African descent have been part of the Lutheran Church in our country since colonial times. The wider Lutheran Church membership in the United States would be well served by remembering that before many of the newer waves of immigrants arrived in the late 1800s, Lutherans of African descent had been part of our church long before their arrival.
Muhlenberg welcomed both enslaved and free Africans, Native Americans, indentured servants, and free servants as well as his fellow German Lutheran immigrants, many of whom were former indentured servants. Muhlenberg was soon forced to offer some services or parts of services in English to nourish the faith of worshippers whose first language was not German.
As the direct successor of Muhlenberg's Ministerium of Pennsylvania, we in the Southeastern Pennsylvania Synod have a witness to share with the whole church about warmly welcoming ALL people to be a part of our ministry.
Shared by Rev. Warren Weleck