Bishop Joins Forum On Racial Policies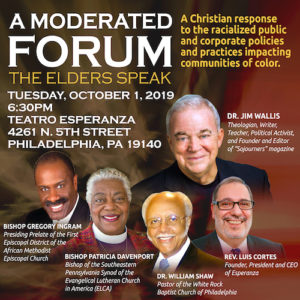 Bishop Davenport will join Dr. Jim Wallis, Bishop Gregory Ingram, Dr. William Shaw and Rev. Luis Cortes in "The Elders Speak," a forum on a Christian response to the radicalized public and corporate policies and practices impacting communities of color on Tuesday, Oct. 1 at 6:30 pm at Teatro Esperanza, 4261 N. Fifth Street, Philadelphia, PA 19140.
RSVP's are required at https://elderspeaks.eventbrite.com. A meal is being prepared for confirmed guests.
This free event is sponsored by Sojourners, The Philadelphia Forum for Faith, Law and Civics, NewCORE: a new conversation on race and ethnicity, and Esperanza. Author, journalist and radio personality Solomon Jones will moderate.
Dr. Wallis is a theologian, writer, political activist, and founding editor of Sojourners magazine.
Bishop Ingram is presiding prelate of the First Episcopal District of the African Methodist Episcopal Church.
Dr. Shaw is pastor of the White Rock Baptist Church of Philadelphia.
Rev. Cortes is founder, president and CEO of Esperanza.