Youth Ministry Extravaganza – Enough!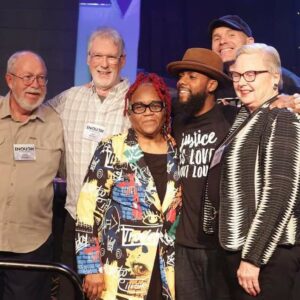 The Extravaganza, an annual gathering of children, youth and family ministry leaders from across the country, took place Feb. 3-6 in Anaheim, Calif. The event was hosted by the ELCA Youth Ministry Network.
This year's theme, "Enough" allowed participants to consider the many ways that we need to think about the word enough: I am enough. You are enough. We are enough. Enough is enough and we've had enough. God gives us enough. We explored the theme through worship, speakers, workshops, and learning tracks.
Kelsey Tomlinson, Director of Christian Education and Youth Ministry at Grace Royersford shared: "The E is a place of renewal and education for me. It is a place of self care, reflection and connection. It refreshes me for another year of youth ministry."
SEPA Synod was represented at the Extravaganza and Multicultural Initiative by: Veronica Britto, Rev. Mukesh Cheedie, Rev. Regina Goodrich, Krystal Hamlett-Lovett and Matthew Lovett. Also attending the Extravaganza: Robin Alderfer, Jeff Kelty, Molly Koerber, Susan Pursch, Kelsey Tomlinson, and Rev. Skyle Rea.
Every year, the ELCA Youth Ministry Network celebrates one person by awarding them the Tom Hunstad Award for Excellence in Children, Youth and Family Ministry – the "Tommy Award." This year, past Tommy winners from SEPA Synod, Susan Pursch (2005) and Rev. Regina Goodrich (2022) were on stage to celebrate the 2023 Tommy Award winner: Joe Davis.
The next Extravaganza, "Dream" will be held at the Sheraton New Orleans January 18-21, 2024.
About the Network:
The ELCA Youth Ministry Network is an independent, 501(c)(3) nonprofit organization that works in close partnership with the ELCA. Its mission is to strengthen and empower adults, children, youth and family ministry leaders in service to Christ. It hosts the annual "Extravaganza" and provides many other resources to strengthen congregational faith formation. More information on the Network can be found at elcaymnet.org.