Advocacy, Bishop, Bishop messages, Congregations, News
October 20, 2014 in
Standing Strong Against Ebola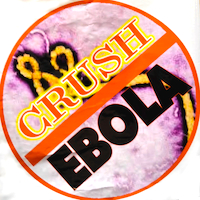 Updated Oct. 27 with new video. 
In the face of the Ebola outbreak that has stricken West Africa, several hundred people – Africans and Americans, from several faith traditions – gathered Sunday (Oct. 19) to pray together, console each other, and build bridges of hope rather than barriers of fear.

Crush Ebola from on Vimeo.
Leaders of Liberian churches in the Philadelphia area and Bishop Claire Burkat led the service at St. Matthew's Lutheran Church in Springfield at which the names of loved ones lost to Ebola were read. Medical supplies, food and sanitzers and more than $3,000 were collected to be distributed by the Lutheran Church in Liberia and Doctors Without Borders.
"We gather for prayer, for touch of healing oil, for the words of ancient scripture and song to bring comfort and hope to a community that worries and frets," the bishop said in her sermon. (Watch the bishop's sermon below or on Vimeo.)
"The hearts of our Liberian brothers and sisters…are being pulled to the depths by the worsening news about their friends and relatives across the sea," the bishop said. Liberians here can only watch and wait to learn if loved ones fall sick, die, or receive a proper burial.
"Where is God in so much suffering?" the bishop asked. "Our time here together … is a powerful reminder that we will not be chased away from our God by despair and fear."
"Do you think that Jesus would be afraid of a 1400 nanometer virus?" the bishop asked. "No, but we are." And while it is right to take precautions, the community gathered "as a powerful antidote to the inflaming rhetoric about the crisis on the airwaves and the Internet that are just as infecting as the virus itself," she said.
"The Kingdom of God starts right here," the bishop said. "We stand in solidarity with our brothers and sisters in Africa and in every place on earth where virus and illness and disease and affliction threaten to undo not just our fragile bodies but the very fabric of society."
"For too long the privileged in the world have turned a blind eye to the least of these on the African continent. The sins of injustice and poverty and racim make for fertile ground for a disease like Ebola to spread," the bishop said. Noting that supplies and funds raised at this service join the response from Lutheran Disaster Response and other faith partners, the bishop pledged that "you can be sure that as Lutherans…we will go to those places ravaged by Ebola and we will stay there until it is gone."
Video:
Ebola Service Sermon from on Vimeo.