St. Paul, Telford: Younger Youth Like to Serve, Too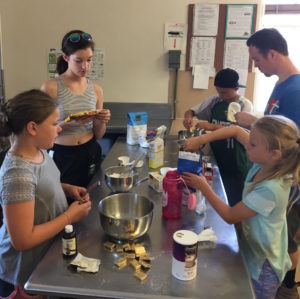 While older youth had the opportunity to serve at the triennial ELCA Youth Gathering, younger youth like to serve also!
Taking an idea from another local Lutheran Church, St. Paul's in Telford held a 3-day mini youth work camp. Youth in grades 3 through 10 were invited to attend. Held from 9 am – 4pm, the program gave youth several ways to serve:
Youth volunteered at Lutheran Community at Telford, playing balloon volleyball and a trivia game with some of their residents.
We helped Telford Borough's Park Maintenance team paint a shed at the local ball field and helped wash the signs that lined the home-run fence line.
We baked chocolate chip cookies that were delivered to the Telford Police and Borough Office.
We made two batches of soup and served it at Zion Mennonite's Table of Plenty soup kitchen.
We also helped Keystone Opportunity Center by chipping paint on the porch of one of their affordably housing units.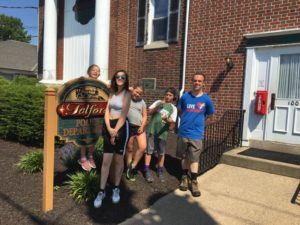 In the afternoons, the youth helped out at St Paul's by watering and weeding our Prayer Garden, helping to paint decorations for VBS and organizing our children's library.
Marian Henry
Director of Christian Education
St. Paul's Lutheran Church, Telford
Have a story to share from your congregation or agency?