Singing in Church?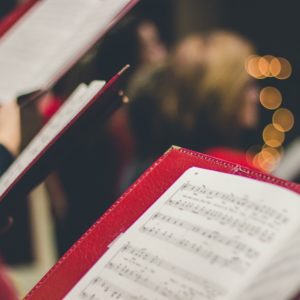 A recent online conversation with pastors and communicators discussed the steps congregations are taking to return to worship. This is a complicated subject. In Pennsylvania,
religious organizations are specifically exempted
from the governor's July 15 mitigation order.
"Consider suspending or at least decreasing use of a choir/musical ensembles and congregant singing, chanting, or reciting during services or other programming, if appropriate within the faith tradition. The act of singing may contribute to transmission of COVID-19, possibly through emission of aerosols."
Choir practice attendees had multiple opportunities for droplet transmission from close contact or fomite transmission, and the act of singing itself might have contributed to SARS-CoV-2 transmission. Aerosol emission during speech has been correlated with loudness of vocalization, and certain persons, who release an order of magnitude more particles than their peers, have been referred to as superemitters and have been hypothesized to contribute to superspeading events. Members had an intense and prolonged exposure, singing while sitting 6–10 inches from one another, possibly emitting aerosols.
So we are left to read between the lines.
Guidelines from the
ELCA
and an
ecumenical panel
strongly discourage singing because of the high risk of viral spread.
Research is ongoing, but results vary. Dr. Lynsey Marr, an engineering professor at Virginia Tech, describes a
growing consensus about the dangers of aerosolized virus
in the air we breathe.
One study
by an educational organization offered a non-peer-reviewed result that recommended that singing is better outdoors, but allowed that singing indoors, masked, in well-ventilated and filtered rooms, was possible for no longer than 30 minutes. Masks are important, and
some work much better than others
. Great Britain, which has been ahead of the U.S. in taming the virus, has just last weekend allowed small choirs and ensembles in church but still
prohibits congregational singing
.
Photo by David Beale on Unsplash