Assembly, Bishop, Bishop messages
May 5, 2018 in
Rev. Patricia Davenport Elected Bishop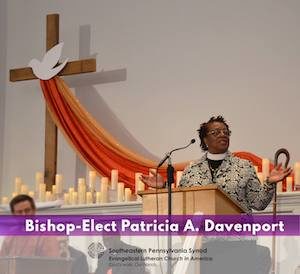 Pastor Patricia A. Davenport was elected the next Bishop of the Southeastern Pennsylvania Synod of the Evangelical Lutheran Church in America Saturday, May 5, at Franconia Mennonite Church.
Pastor Davenport is the first African-descent woman to be elected a bishop in the Evangelical Lutheran Church in America.
On the fourth ballot, Bishop-elect Davenport, currently our Synod's director for evangelical mission, received 331 votes, 77% of votes cast. The Rev. Julie DeWerth, pastor of Good Shepherd Lutheran, King of Prussia, received 89 votes. The Rev. Carlton Rodgers, pastor of Tabernacle Lutheran Church, Philadelphia, received 58 votes.
---
Watch a greeting from our new bishop-elect:
---

Watch the announcement of the election and the bishop-elect's remarks

Watch Pastor Davenport's 5-minute address to the Assembly.
---
Bishop-elect Davenport, 63, currently serves as the Director for Evangelical Mission/Assistant to the Bishop, and is a member of the Spirit and Truth Worship Center in Yeadon. She also has served as a Pastor/Mission Developer for the Spirit and Truth Worship Center and as Acting Bishop for three months. She earned a degree from the Community College of Philadelphia and a M.Div. from the Lutheran Theological Seminary at Philadelphia, in addition to three other educational certificates.
Pastor Davenport has been active with various Synod and community groups, including her current positions as co-chair of the Guiding Coalition, Churchwide, and as a member of the Congregational Vitality Team. She attributes her success in her various endeavors to her open mind and spirit to learn as well as lead and gift to speak truth to power in situations of injustice.
She believes the Synod's cross-generation of gifted lay leaders and rostered ministers highlights its ethnic and cultural diversity and is one of its greatest strengths. This gift will allow the Synod to reach beyond its borders, sharing God's story, and combatting the challenges of lack of physical, human and financial resources—decline in attendance, dwindling resources and lack of outreach.
Her favorite Jesus story is that of Jesus and the Samaritan woman at the well. He went out of his way to reveal the truth of who she is, and this story reminds her of her own life experience.