---

As part of the celebration of the 500th Anniversary of the start of the Protestant Reformation, congregations, conferences and agencies are finding many ways to commemorate this world-changing event.
There will be worship services and educational programs, explorations of Lutheran music and culture and the contributions of Lutherans of color, and more. Bookmark this page to find new events as they are announced.
Use this online form to submit your events. Send stories and photos of your celebrations to sepanews@sepa.org.
---
Featured Events 
Together in Hope – Lutherans, Catholics Commemorate Reformation in SEPA

Lutherans and Catholics will mark the 500th Anniversary of the Reformation with an ecumenical seminar and worship on Saturday, Oct. 21, from 10 am to 2 pm at Trinity Lutheran Church in Lansdale. 1517-2017, From Conflict to Communion – Together in Hope features a seminar with The Rev. Donald McCoid and Dr. John Borelli highlighting recent theological progress toward unity between Lutherans and Catholics. The Rev. Dr. Peter Donahue, president of Villanova University, and Bishop Claire Burkat will lead worship. Cost is $15 including lunch. Learn more at https://ministrylink.org/together-in-hope/
---
Blazing Shadows: Luther and Ignatius – Two Reformers, Faith to Faith.
Dr. Philip Krey, Bishop Joseph Martino and other panelists will talk about the legacies of Luther and Ignatius in this event co-sponsored by St. Peter's Lutheran and St. Rose of Lima Catholic Church, North Wales, on Saturday, Oct. 14, 7-9 pm. Download more information: Blazing Shadows
Cruise in the Footsteps of Paul Oct. 15-26
Celebrate Luther's 500th Anniversary of the Reformation by learning more about the major writer of the New Testament letters, Paul, who had a major influence on Martin Luther. Tour led by Rev. Dyan Lawlor, Upper Dublin Lutheran Church. Here's a wonderful opportunity to join other Christians on a beautiful AND educational Fall cruise "THE JOURNEYS OF PAUL!" You'll have 9 days on board the Royal Caribbean ship, "The Jewel of the Seas", with stops at Crete, Mykonos, Santorini, Athens, Corinth, Naples, Pompeii and Rome!  Plus, besides the delicious food and scenery, while sailing at sea to the next port, we enjoy lectures by Professor Karoline Lewis of Luther Seminary. Learn more at http://udlc.org/christian-education/cruise-in-the-footsteps-of-st-paul-october-15-26-2017
Martin Luther and the Reformation
Join us at St. John Lutheran Church, Blue Bell, on Saturday, Oct. 21 at 4 p.m. for a special dramatic presentation by Steve Seyfried about the life of Martin Luther. Mr. Seyfried describes his program as modeled after TED Talks and brings to life Martin Luther and the movement that changed the course of Western religion.  Following the program, we will have a German-themed potluck.  You may RSVP by signing up via the link: www.SignUpGenius.com/go/20F0B45A9AC23A6F85-reformation
Celebrating One Baptism in Christ
The Philadelphia Cathedral will host speakers, the Rev. Dr. Gordon Lathrop and Father Dennis Gill, for this ecumenical commemoration on Sunday, Oct. 29 at 3 pm at the Philadelphia Episcopal Cathedral, 23 S. 28th St., Philadelphia 19194. Download a poster: PLI-Reformation
Reformation Vespers Service
An expanded setting of Evening Prayer with the inclusion of J. S. Bach's Reformation Cantata "Ein feste Burg" with festival choir and orchestra. Sunday, Oct. 29, 7:30 pm, at St. John's Lutheran Church, 1802 W. Skippack Pike, Blue Bell, PA 19422.
---
ELCA Events (Nationwide)
---
 
---
Selected Resources
COUNTDOWN TO REFORMATION SUNDAY READY-TO-USE RESOURCES
To build anticipation and awareness of this 500th anniversary of the Reformation year, ready-to-use bulletin inserts with correlating Facebook, Twitter and blog posts will countdown the weeks leading up to Reformation Sunday, Oct. 29, 2017. Brief history facts related to the reformation have been prepared by members of St. Mark's Lutheran in Springfield, VA and have been prepared by the Metro DC Synod for distribution. (They're catching on in Ohio, California and elsewhere, too!) Check it out from http://metrodcelca.org/2017/03/reformation-500-countdown-bulletin-inserts/
Historical Essay on Martin Luther and Beer, in the Form of a Folk Song
Martin Lohrmann, Assistant Professor of Lutheran Confessions & Heritage at Wartburg Theological Seminary and formerly pastor at Christ Ascension Lutheran Church, Philadelphia, has written and posted a well-researched song I wrote about Luther and beer. Its' catchy chorus: "Martin Luther drank the beer that Katie Luther brewed." Download the song and lyric sheet at Martin's blog.
"Luther and the West" Free Online Course

Northwestern University is offering a free Massive Open Online Course (MOOC) called "Luther and the West" as a resource for celebrating this year's 500th anniversary of the Reformation. The course is taught by Christine Helmer, who is an internationally known Luther scholar, and Professor of Religious Studies and German at Northwestern University in Evanston, USA.
This course is about the impact that Martin Luther, the Protestant reformer, had on major ideas in the history of the west. You will encounter ideas such as freedom and slavery, biblical interpretation and anti-Judaism, politics and economics. In addition to Luther, you will meet important thinkers, such as Baruch Spinoza, Immanuel Kant, and Martin Luther King Jr. The course includes 36 video lectures by Professor Helmer, in addition to many texts by Luther and others that you can download for free. You can connect with other learners in discussing the course material.
Let's Read the Small Catechism Together
What? With New Voices — the Small Catechism in the 21st Century is an invitation to all members of all ages to hear the catechism from new voices — voices that perhaps we did not hear in our earlier faith experiences — and to be renewed in our own voices as witnesses of Jesus Christ.
When? From August 2016 (the 2016 Churchwide Assembly) to Oct. 31, 2017, (the 500th anniversary of the beginning of the Reformation).
How? In a way that is most promising for your community of faith and most fitting for the relationships in your community. In particular, we encourage a congregation-wide engagement with the Small Catechism during the season of Lent in 2017.
Where? Resources will continue to be added to this site. We encourage you to check back often.
Why? The Small Catechism is a treasure too good for just early adolescence. With New Voices invites you into a fresh engagement with the Small Catechism as a way of turning to this world with renewed passion for proclaiming and embodying this promised hope from God.
Rick Steves' "Luther and the Reformation"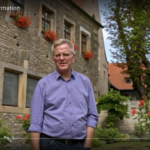 Rick Steves' "Luther and the Reformation" is available for you to stream and share. This one-hour video is a wonderful resource to better understand our Lutheran roots and help us in our continued journey of understanding the gospel. Many thanks to Steves, who has generously given all members of the ELCA access to this video. DVD copies have been distributed to each congregation.
Planning a viewing party? Find promotional photos, discussion questions and sample fliers at ELCA.org/RickSteves.
 Luther 500: A Layman's Guide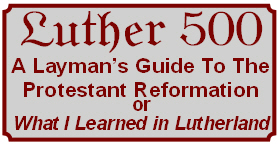 In 2014 Steve Seyfried, actor and playwright, traveled with Bishop Burkat and others to Germany on a tour of Lutherland, following in the footsteps of Martin Luther, through Wittenberg, Erfurt, Eisenach and Eiseleben. Steve returned with a wealth of stories, insights and photos, and the desire to share this remarkable experience with others.
In a spirited one hour presentation, in the style of a TED Talk, Steve brings the story of the Reformation to life from the posting of the 95 Theses to the Peace of Augsburg that formally recognized the Lutheran Church.
---
ELCA Resources

Why is the Reformation still relevant?
The Lutheran Reformation offers to Christian communities everywhere a liberating way of listening to and speaking the Scriptures. The Reformation teaching that Christ's life flows through faith into a life of service to the neighbor is especially liberating in our culture today. The Reformation teaching that faith is the work of God's Holy Spirit is especially liberating in a culture that assumes a faith relationship with God is an act of human "free will."
Many, both within Christian communities and beyond, are held captive by ideologies that limit the full scope of God's mercy in Christ to demographic groups defined sociologically by certain beliefs, behaviors or experiences. The Reformation teaching that Christ's life flows through faith into a life of service to the neighbor is especially liberating in a culture that makes religious life into a demonstration of one's own worthiness and privilege to the disadvantage of others.
— Adapted from elca500.org
The ELCA has created a special website, http://elca500.org, with ideas, news, resources and stories of Reformation celebrations across the church. Visit this site often to see the latest.
---
More Information:
Updated: June 1, 2017