The Reformation Was Not Once-and-Done…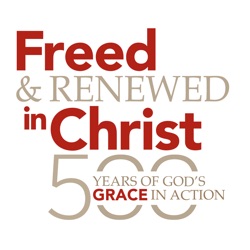 In this 500th anniversary of the Reformation, we Lutherans are mindful that the Rev. Dr. Martin Luther sought to reform the Church of the 16th Century — not to start a new denomination. The resulting split from the Catholic Church into a Protestant movement resulted in five centuries of division, as well as renewal. I am pleased that in my lifetime we see the many affirmations of our common faith that Catholic and Lutheran theologians have acknowledged and promoted in the last 50 years, and I am hopeful for the unity that our Lord prayed for us.
Now more than ever in this 21st century, Christians need to be united in the common roots of our faith, in service to our neighbors, and in witness in the world. We look forward to new ways the gospel calls our church into ecumenical and also interfaith community. The Reformation was not once-and-done; the church needs to be always reforming in order to share God's mercy in our changing culture.
In Christ,
+ The Rev. Claire S. Burkat,
bishop