Disability Ministry, Faith in action
August 25, 2018 in
Peaceful Living All-Ability Art Program Residence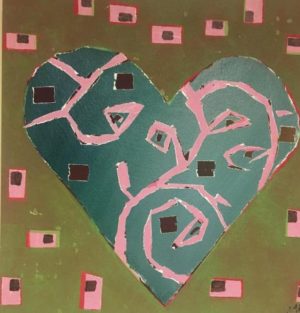 Peaceful Living's Art Program moved into Emmanuel Lutheran Church in Souderton this spring, bringing new life to the hallways. With artworks on display, and a classroom filled with bustling artists, things are looking joyful and exciting in this historic church.
Elena Drozdova, Peaceful Living's Art Director, recently spoke with me about this blossoming partnership between Peaceful Living, a local ministry that seeks to engage the gifts of adults with intellectual disabilities and autism, and the Souderton community.The paintings created together, as seen below and to the right, are uniquely beautiful community creations.
In the unique layering process Drozdova developed– which exemplifies Peaceful LIving's model of belonging–each piece is many artists handiwork. Participants may prepare canvases, apply paint, apply tape to resit a layer of paint, or remove tape after a layer of paint has dried. There is a job for any and every level of ability. In fact, the idea of using and removing tape as part of the layering process, which is just the right task for some of her students, was born in Drozdova's classes a few years ago, through her attention to individual comfort and creativity.
"Art is the manifestation of belonging. Everyone in their own way is helping and contributing.We spread awareness and belonging through our art," Drozdova says.
"And when it is finished, we take it to the world."
–Kathleen Murphy