2014 Assembly, Assembly, Congregations, Equipping, Faith in action, Mission
May 3, 2014 in
Nurturing Vibrant Congregations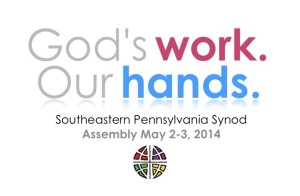 For about fifteen minutes every week, most of us listen to a sermon, absorb its message and go home to our daily lives. Perhaps we think about it once or twice, or it may flutter around the edges of our minds, but chances are good that by the next week's sermon, we've forgotten all about it.
Yet, most of us also yearn to find a way to apply those weekly messages to our lives and have them truly make a difference for us—as we go to work, as we play with our children and as we reach out to our friends and neighbors in need.
How can we create a better link between the Bible's lessons in sermons we are exposed to in church and the ways they are applied to our daily lives? That was one of the questions that was posed during a research project undertaken by Rev. Dr. David Lose, a professor at the Luther Seminary in St. Paul, Minn., thanks to a grant from the Lilly Foundation. Lose shared some results of his research in two jam-packed forums at the SEPA Synod Assembly Friday.
The study questioned what it takes to nurture and cultivate a vibrant congregation. He and his team worked with 5,000 participants in 38 congregations within six Christian traditions in diverse locations around the country. The congregations were self-nominated because demonstrated interest by the participants was required for the project to be effective.
"Vibrancy takes many forms," said Lose. "And thinking we already know what it looks like limits us."
The research team, consisting of 30 faculty members and staff of the seminary, found that those congregations that had clear definitions of vibrancy, what they were and where they wanted to go, were linked to agency. "Keeping responsibility for growth and learning with the participant is agency," he said. "We believe that people change when they are ready to change, and we wanted to challenge people to help themselves."
By offering suggestions, expertise and insight, energy for change is created, offering the possibility for vibrancy to anyone, anywhere, anytime.
Lose outlined the three-step process he followed to assess the potential for vibrancy within the congregations studied: The first—discovery, or helping the congregations learn who they were at the time—showed that the desire to find meaning and purpose in life by integrating faith and daily life was strong.
The second step was to encourage each congregation to experiment with options and alternatives to the congregational processes that didn't seem to be working for them. One suggestion was to email the next week's Bible passage to the congregation with two questions.
That suggestion was met with an overwhelming response. The majority of participants told the team they would be more engaged with the Bible if they were asked to get involved during the week rather than only on Sunday.
And the third was assessment.
"We discovered that the up-front research is crucial because it builds commitment," said Lose. "It's also important to have a 'champion' – someone to keep the work of change out there in front of the congregation." Giving people something to think about and ways to relate their faith to their daily lives makes that faith life feel useful and successful every day.
"Remember, change happens when participants want it," Lose said, "and even a small change can have a big effect." — Brenda Lange