Congregations, Disaster Response, Faith in action
October 11, 2017 in
New Creation Reaches Out to Puerto Rico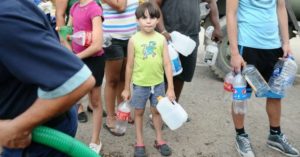 One congregation that is active in response and support of Puerto Rico is Iglesia Lutheran Nueva Creación (New Creation Lutheran Church) in North Philadelphia. While keeping in touch with her own family in Puerto Rico, Pastor Lyzette Rios of New Creation has been finding ways to care for other members of her congregation and community who have strong ties to Puerto Rico. As you've seen on the news, clean water, food, electricity, and fuel, have been slow to make their way to many parts of the island and are all still in very short supply.
Pastor Rios and New Creation are collecting donations that have been requested by six community organizations in Puerto Rico. The donations will be delivered to Norris Square Community Alliance (NSCA), a community organization with a long-standing reputation in North Philadelphia, which will then deliver these supplies to the community organizations in Puerto Rico. Please support Pastor Rios and New Creation in their efforts!
Supplies needed include:
batteries (sizes C, D, DD, and 9-volt),
flashlights,
adult and child wipes,
OTC painkillers such as acetaminophen,
heavy duty trash bags,
adult and children's diapers, and
feminine hygiene products.
Donations can be dropped off at New Creation, 162 W. Tioga Street, Philadelphia (19140) on Wednesday mornings, or by appointment by calling Pastor Rios at 267-595-2640.
Lutheran Disaster Response – Eastern PA (LDR – EPA) is reaching out to congregations that have worshippers or who otherwise serve people who have family members from those areas impacted by Hurricanes Irma and Maria. We are seeking to support what congregations are doing in their own communities by sharing their stories.
If your congregation is serving families affected by the recent Hurricanes, please contact LDR-EPA at 267-464-7700 so they can support your efforts.
Updated 2:20 pm to expand the list of needed items.
Photo: U.S. Department of Defense