2014 Assembly, Advocacy, Assembly, News
May 2, 2014 in
Ministry Partner: Welcome Church

"We are moving 40 folks into permanent housing in May!" was the happy response of Pastor Violet Little of the Welcome Church when asked "What's new and exciting in your ministry?" Working cooperatively with Project Home the Welcome Church, a ministry of our Synod that worships weekly outdoors on a corner of Logan Square with many homeless people, is accomplishing this happy goal. When folks move into their homes, the Welcome Church offers to come and celebrate with a blessing of the home.
And how about a housewarming party? Welcome Home Kits make for a grand housewarming party, and your congregation can cooperate. Congregations of the synod are asked if they would consider putting together one Welcome Home Kit to include:
• Dishes: set of 4-8, including glasses
• Utensils: set of 4-8
• Pots/pans: 2 frying pans, 2 pots, 1 soup pot
• Dish towels/dish cloths
• Bath towels/wash cloths (4 each)
• Bed linens (queen size): 2 sets (fitted & flat) + 1 blanket
• Pillows: 2 (new)
• Toiletries
• Shower curtain/liner
• Bathroom accessories
• Waste baskets: 2 & 1 garbage pail
• Ice cube trays: 2
• Plastic food storage containers
For more information about the Welcome Home Kits contact Rev. Schaunel Steinnagel, Associate Pastor, Welcome Church, at
The Welcome Church table at the Assembly was also displaying some beautiful wares: colorful hand woven scarves, screen printed aprons and greeting cards. These are the result of a newly formed social enterprise resulting from the partnership between Welcome Threads and Ready-to-Hand Studio in Philadelphia. http://www.readytohand.org/community/ Welcome Threads is comprised of a team of advocates to end homelessness (including textile artists) along with men and women of Philadelphia who are either currently homeless or newly housed.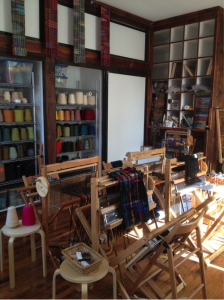 Participants meet weekly to train and execute textile printing and weaving. Welcome Threads printers produce silk-screened T-shirts, tote bags, aprons, and notecards expressing "Welcome Thoughts", the poetic wisdom from the streets. Welcome Threads weavers create hand woven scarves, slippers, and domestic textiles using the Japanese SAORI-style of therapeutic and improvisational weaving. A specialization of the weavers is clerical stoles and tallit (Jewish prayer shawls).
— Irma Kelly