Congregations, Equipping, Faith in action
December 6, 2017 in
Meaningful Conversations About Race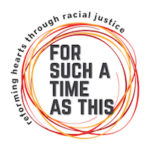 ART, SEPA synod's Anti-Racism Team, has been busy in recent weeks.
​On November 11, ART members Janet Bischoff and Chase Ferguson presented an overview of what happens during anti-racism training to 12 members of Advent, Harleysville.
And on November 12, ART members the Rev. Gwendolyn King and Deacon Kathie Afflerbach were the presenters and facilitators of an anti-racism workshop, "Dismantling Racism."
---
​Members of Advent, served by interim pastor the Rev. Susie Folks (also a member of ART), experienced an overview of "Today's Dream, Tomorrow's Reality," the curriculum developed by WELCA (Women of the ELCA). Covering Context, Connection, and Communication (the 3 C's), the full training takes participants on a journey into the history of racism, how it is a part of our structures and systems, and our role as Christians to acknowledge, confess and work to destroy it.
This faith-based workshop is designed to be educational and non-threatening. When a congregation commits to the in-depth training, 6-8 hours are devoted to each of the three C's.
---
There were 34 participants at the Annual Leadership Gathering of Upper Bucks Conference held at St. Paul's, Telford. Pastor King and Deacon Afflerbach presented a 90-minute workshop including a Bible Study on Acts 10 "Peter and Cornelius," discussing definitions of "racism" and "white privilege," and providing a taste of the WELCA curriculum. The hope is that leaders at this gathering would be motivated to invite ART to present the training at their home congregations.
Follow up!
​To invite ART to your gathering, please send a request to: antiracism@sepa.org .