LAMPa Honors Rev. Matt Staniz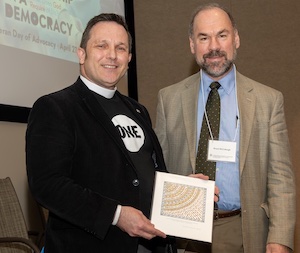 The Rev. Matt Staniz, lead pastor of St. Luke, Devon, was one of the 2023 Advocacy Honorees acknowledged by Lutheran Advocacy Ministry in Pennsylvania at its annual Lutheran Day at the Capitol April 27.
Over the past 14 years, he has become a leading faith-based voice for the ONE Campaign, a grassroots campaign to end extreme poverty and preventable disease, particularly in Africa. His activism includes sharing stories of ELCA global missions in Africa with members of Congress during frequent meetings on Capitol Hill and in local communities. He engages members of his congregation in advocacy and has worked to equip and inspire participation across the Southeastern Pennsylvania Synod, his local interfaith community, and among ONE volunteers globally.
Congratulations, Pastor Staniz!