October 31, 2018
Interfaith Leaders Stand with Jewish Community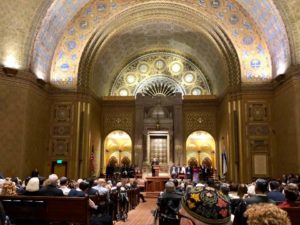 Hundreds packed Temple Rodeph Shalom in Philadelphia Sunday night as people of many faiths and political leaders gathered to stand in support of the Jewish community after 11 worshippers were murdered during prayers at a Pittsburgh synagogue Oct. 27. The Philadelphia Inquirer reported:
The tone was largely spiritual. The Rev. Mark Tyler of Mother Bethel AME Church in Society Hill — invoking the white supremacists who marched in Charlottesville, Va., in 2017 — proclaimed, "We don't need Tiki torches; we just need small candles so that everybody can see that we're standing together, to let our light shine."<
Bishop Davenport was present at the vigil as a member of the Religious Leaders' Council of Greater Philadelphia. In an Oct. 27 statement, Presiding Bishop Elizabeth Eaton wrote:
We are reminded that hate-filled violence knows no bounds…Therefore, in this tender moment of grief, let us reach out to those whose hearts are most broken – our Jewish neighbors. I encourage you to contact your local synagogue, or your Jewish colleagues, friends, and family members, to share your words of care, support, love, and protection.
If your community is planning an action, please let us know by email.