Advocacy, Bishop, Bishop messages, News
February 28, 2017 in
Interfaith Leaders Condemn Desecration of Jewish Cemetery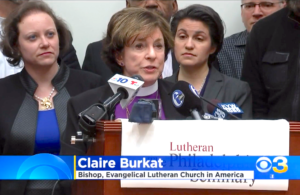 Interfaith leaders from across Greater Philadelphia gathered Monday at the Lutheran Theological Seminary to lament and condemn the weekend vandalism that desecrated the final resting places of Jews buried in Mt. Carmel Jewish Cemetery.
Bishop Burkat opened a news conference with Jewish, Christian and Muslim leaders by calling the damage to more than one hundred tombstones "a kind of spiritual violence that must be stopped and denounced by all people who abhor the hate-filled anti-Semitism that is escalating" in the US today.
"We come together as faith leaders to say not in our name, not in our city, not in our region," said Rabbi David Strauss of Main Line Reform Temple.
"Our work is before us," said Imam Anwar Muhaimin, of Masjid Quba. "I wanted to stand today and add my voice of support against the bigotry and intolerance, anti-Semitism and Islamophobia — we are all in this together."

The news conference followed a conference on ministry in this climate of division attended by nearly 200 pastors, rabbis, imams, seminarians and lay leaders. Bishop Burkat, Rabbi Strauss, and Imam Muhamin are co-convenors of the interfaith Religious Leaders Council of Greater Philadelphia.
"We come together in solidarity," said Rabbi Jill Maderer of Temple Rodeph Shalom, representing the Philadelphia Board of Rabbis. "We will not only defend our particular group. Too many people are vulnerable. Our embrace is wide enough to hold our immigrant neighbors, our LGBTQ friends, and our Muslim cousins, from Tampa to Kansas."
"Islamophobia is anti-Semitism, is racism, is homophobia," Rabbi Maderer continued. "And so as we join together to honor the memory of the hundreds of Jews whose graves were desecrated in our city, may we proudly express our differences in our diverse nation. May we devote ourselves to protecting the immigrant, the stranger, the vulnerable. May we see the divine in the eyes of every human being."
The destruction at Mt. Carmel Cemetery is part of a rising tide of hate and violence aimed at Jews, Muslims, the LGBTQ community and other vulnerable populations.
"In recent weeks our nation has seen a new wave of anti-Semitism on the rise. It is wrong, and it should deeply concern…all people," said a statement from Archbishop Charles Chaput, who was represented by Msgr. Daniel Kutys. "We must continually and loudly reject attempts to alienate and persecute any religious tradition."
"I call on the clergy, religious and lay faithful in the Archdiocese of Philadelphia to join in prayerful solidarity with the families of those whose final resting places have been disturbed," the archbishop's statement said. "Violence and hate against anyone simply because of who they are is inexcusable."
"The Religious Leaders Council of Greater Philadelphia, representing more than 2.5 million people, …stands with Mt. Carmel Cemetery and Jewish communities throughout our region. Acts such as these are dangerous, painful, and discouraging to the positive interfaith society that we seek to foster and build together," said the Rev. Nicole Diroff, executive director of the Interfaith Center of Philadelphia. Such acts "only serve to reaffirm our commitment to build peace and understanding among our diverse faith communities."
"We as Black clergy stand against any acts of violence or hatred that is elicited by the climate of hateful rhetoric we are seeing raised around us," said the Rev. Jay Broadax of the Black Clergy of Philadelphia and Vicinity. "We must stand together anytime any community is assaulted by such a hateful act."
"What happened in the cemetery in the dark of night was… an act of cowardice," said the Rev. Bill Worley, Southeastern Pennsylvania Conference Minister with the United Church of Christ. "It will not, that expression of hate, make America great. But the compassion, unity and community that stands on this stage will. I am blessed beyond measure to stand with them."
Rabbi Rick Jacobs, President of the Union of Reform Judaism, told about 200 faith leaders gathered at the seminary for a previously scheduled conversation for clergy, called "Coming Together: Supporting, Organizing and Pastoring Our Members (and one another) in This New Political Landscape", that in 2015 the Southern Poverty Law Center monitored 15 hate groups; by 2016 there were 101 groups on the center's radar. As the conference took place, word came in that Jewish schools and community centers in Cherry Hill, Wilmington, Harrisburg and York had received bomb threats that led to evacuation of the facilities.
"We have vowed to come together again, and again, and again, as long as it takes, as many times as it takes, to protect, defend, and support one another and all people," Bishop Burkat said. "In this time of division, we stand for unity. In this time of hate, we stand for peace and for strength."
Related
Channel 6 lifestream of press conference: