Advocacy, Bishop, ELCA, Faith in action, News
April 2, 2014 in
Immigration Reform on Bishop's DC Agenda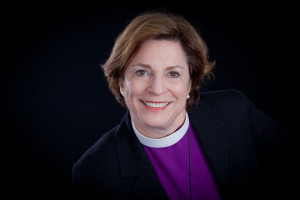 As a person of faith, Bishop Claire Burkat of the Southeastern Pennsylvania Synod of the Evangelical Church in America (ELCA), recognizes that she is called to welcome the sojourner and walk alongside migrants and refugees as they rebuild their lives in America. Bishop Burkat took that message of welcome to Capitol Hill today and visited lawmakers, emphasizing the ELCA's commitment to compassionate immigration reform.
"Americans have a crucial opportunity to mobilize legislators, community, and faith leaders to re-energize support for immigration reform before midterm elections further politicize reasoned discussion," said Bishop Burkat, who met with members of Congress as part of the annual Lutheran Immigration Leadership Summit, hosted by Lutheran Immigration and Refugee Service. "Immigrants and refugees are joining and leading our communities of faith in every part of our country. In our synod, African descent and Latino congregations in partnership with the ELCA and our established congregations are offering a wide range of support, from job training to worship opportunities. Together we are welcoming newcomers and partnering with them as we embrace this new, energized and diverse population for a vibrant American future."
"Immigration reform would benefit our greater Philadelphia area by offering a path to citizenship and by keeping families together. It would offer opportunities for meaningful employment, matching skills and purpose with jobs, would allow people to move out of poverty, and contribute to our country without fear," said Bishop Burkat, who visited the offices of Representatives Schwartz (D-PA), Peters (D-PA), Pitts (R-PA), Fitzpatrick (R-PA), Marino (R-PA), and Senator Toomey (R-PA).
"We're meeting with more than 40 congressional offices and policy makers at the White House today, and we're grateful for the leaders who have come together to urge the President and Congress to move forward on reform," said Brittney Nystrom, LIRS Director for Advocacy. "Thanks to their voices, this powerful message is being heard across Washington, D.C."
42 Lutheran leaders and community leaders are taking part in the summit, engaging in conversation with lawmakers and policy makers and discussing the need to transform America's broken immigration laws. LIRS's principles for immigration reform include providing a roadmap to citizenship to undocumented immigrants, ensuring enforcement measures are humane and just, protecting families from separation, promoting integration of vulnerable migrants, and protecting U.S. and migrant workers.
"Between the record number deportations, the devastatingly high number of Syrian refugees who need homes, and the inaction in the House of Representatives, now, more than ever, is the time to unrelentingly voice the need for immigration reform. Our faith calls us to welcome the stranger and love the neighbors God give us. It is with this conviction that these Lutheran leaders call on their elected officials in Washington," said LIRS President and CEO Linda Hartke, "Their faith perspective, leadership and the lived experience of the communities they serve guide the immigration reform debate towards a humane and welcoming conclusion."
Bishop Burkat is also making the trip to Washington for the ELCA's Bishops' Advocacy Convening, a gathering of faith leaders for conversation with members of Congress on issues relating to peacemaking, hospitality, and care for creation.
LIRS is nationally recognized for its leadership advocating with refugees, asylum seekers, unaccompanied children, immigrants in detention, families fractured by migration and other vulnerable populations, and for providing services to migrants through over 60 grassroots legal and social service partners. Celebrating 75 years of service and advocacy, LIRS has helped more than 500,000 migrants and refugees rebuild their lives in America.