Ground Broken for Thrivent Builds in Hatfield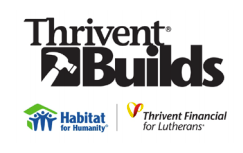 Habitat for Humanity of Montgomery County and Thrivent Financial for Lutherans broke ground April 27 for construction of a Thrivent Builds duplex home on Penn Avenue in Hatfield. David Enlow of St. Andrew, Audubon, David Ochocki of St. John Center Square, and the Rev. William Vanderslice of St. Paul's, Red Hill and dean of the Upper Montgomery Conference participated in the dedication. The Upper and Lower Montgomery Chapters of Thrivent are partnering in this project. If you'd like to become involved, contact David Enlow of St. Andrew, Audubon, via email.
Photos by Jon Alderfer for Thrivent.