God's work. Your stories.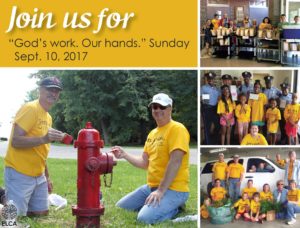 The national ELCA Day of Service – "God's work. Our hands." Sunday on Sept. 10, 2017 – is an excellent opportunity to let your congregation know about the ministries your congregation provides to your community all year long. Bob Fisher, assistant to the bishop for communication and mission interpretation, offers a number of tips and resources for telling your congregation's story.
As you plan and execute your service projects on Sept. 10, consider this event a chance to tell the story of who you are as a church by maximizing your exposure to the community. Make sure to involve the people who handle your church's communications – newsletter and web editors, photographers, videographers, social media mavens – so that you can get the word our before, during and after your service project.
Invite the media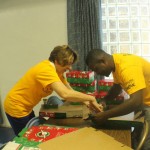 Create a short press release or media advisory to let local newspapers, online sites and other media know about your event. Research your local media's web site for the fax or email for the newsroom (often under the "Contact Us" heading). Some media will allow you to submit your information through a web form.
Document your event
Recruit volunteers to take photographs and/or video of your event. You can use these photos and videos in web, e-news and social media throughout the year to show how your congregation is engaged with the community.
Flood Bucket Brigade from on Vimeo.
Use social media
Facebook, Twitter, Instagram, Pinterest and video services like Periscope are well suited to covering events such as the day of service. Your "official" church accounts should participate, but be careful not to over post – try an album from each site and/or a post or two an hour. It is most important to you're your members to post their own insights and photos using personal accounts to their friends and followers, tagging or linking to your church media. Use the hashtags #ELCADayofService and #SEPA for your posts.
Capture your members' stories

Adding testimonies from participants or people you are serving can be powerful. You can talk to people and write their story from notes, but it's even better if you interview them on video. Ask questions that open up their stories: How does this event make you feel? What was the highlight of the day? Where did you see God active in this event? What did you learn? Short video clips can be posted on social media and your webpage, or edited together with overall footage of the event to weave a compelling narrative of your event. Use the stories as well as short written narratives for your bulletin or newsletter to engage the rest of your congregation.