Give to Texas Flooding Recovery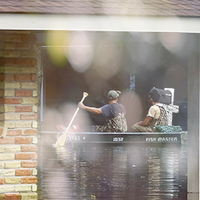 The eyes of the nation are riveted on the severe damage and worsening flooding unfolding in Southeast Texas due to Harvey.
Prayers and messages of support are valued, Gulf Coast Synod Bishop Michael Rinehart says in a blog post, but it is too soon for volunteers to come to the area. You can help with your financial donations to relief and recovery efforts.
Scroll down for giving options and links.
Here are some options for giving:
The Gulf Coast Synod Disaster Fund will be used for helping congregations and their people get back on their feet so they can serve their neighborhoods.
Give online at https://gulfcoastsynod.org/about/donate/. Click the donate button and give to "Hurricane Harvey."
Mail your donation to:
Gulf Coast Synod Disaster Fund
12941 North Freeway
Suite 210
Houston, Texas 77060
Memo: Hurricane Harvey
Lutheran Disaster Response is a highly reputable ELCA organization that supports case management primarily, through local providers like Lutheran Social Services. They give by need and not by creed. Learn more about giving to LDR at http://www.elca.org/Our-Work/Relief-and-Development/Lutheran-Disaster-Response/