Ryan Burge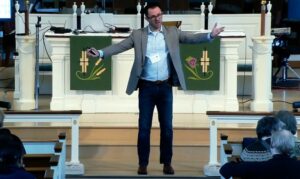 "The Nones: From The Overlooked Category to Impossible to Miss in Less Than Fifty Years"
Please note: Ryan Burge's presentation will be available until May 8, 2023.
Download: The Nones – Ryan Burge -FINAL
Description

In 1972, just one in twenty American adults claimed no religious affiliation on surveys. Today, it's closer to a third of all adults and among Generation Z nearly half identify as atheist, agnostic, or nothing in particular. How did these numbers increase so rapidly, what are the factors that led to such a seismic shift, and what can the Church do to respond to the increasing numbers of nonreligious Americans? Through simple statistical analysis and clear, straightforward charts and graphs, Ryan Burge charts the rapidly changing religious demography of the United States both with the eyes of a social scientist but also a bivocational pastor.

Ryan P. Burge is an assistant professor of political science at Eastern Illinois University. Author of numerous journal articles, he is the cofounder and a frequent contributor to Religion in Public, a forum for scholars of religion and politics to make their work accessible to a general audience.

Burge is a pastor in the American Baptist Church, having served his current congregation for more than fourteen years.

His research has been covered in a variety of media outlets including The New York Times, The Washington Post, CNN, Vox, 538, Christianity Today, Religion News Service, The Daily Mail, Deseret News, and C-SPAN.
---
Workshop Leaders
Click on images for information and videos
---
Thanks to Our Sponsors
STEWARDSHIP OF LIFE INSTITUTE (SOLI)
The Larry House Memorial Fund for Stewardship Education at UNITED LUTHERAN SEMINARY
TRINITY LUTHERAN CHURCH, Lansdale, PA
REFORMATION LUTHERAN CHURCH, Media, PA
CALVARY LUTHERAN CHURCH, West Chester, PA
ADVENT LUTHERAN CHURCH, West Chester, PA
ST. ANDREW LUTHERAN CHURCH, Perkasie, PA
ST. MATTHEW LUTHERAN CHURCH, Springfield, PA
REDEEMER LUTHERAN CHURCH, Jamison, PA