Forward Together in Faith Introduced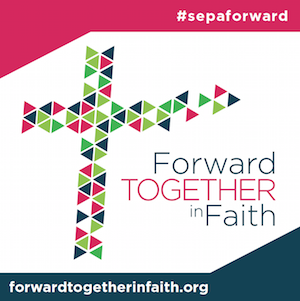 Ms. Ellen S. Daneke, St. Peter Lafayette Hill, Chair introduced the Forward Together in Faith campaign.
Dank called us a strong synod of people who let their voices be heard. She asked the following questions, and challenged us to answer "yes" to each (we did):
Is SEPA synod ready to make changes for the sake of the gospel? Are we ready to network, collaborate and share ideas? Are we ready to take risks and even fail for the sake of the gospel? Are we ready to change hearts and minds? Are we ready to equip and empower congregations?
Daneke said that 27 synod congregations were assessed in the past year for their readiness for new ministry. They are willing to try new things, work together and also change some things they do today. They are poised to help reshape the synod, moving forward together in faith.