Extravaganza of Generosity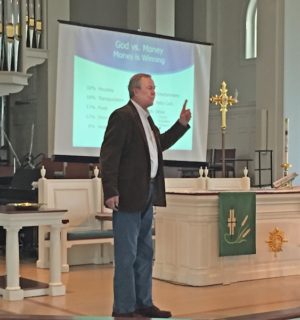 "You can't love Jesus and not give," pastor and author Clif Christopher said in his keynote at the 2020 Extravagant Generosity program Jan. 10. "It's just impossible."
Yet some churches lose the battle with money because "there are more people who think money can save them than think Jesus can save them," said Christopher, author of Not Your Father's Offering Plate and God and Money.
More than 250 people attended the two-day event hosted at Trinity, Lansdale, and sponsored by the Synod in partnership with the Northeast Pennsylvania Synod.
Christopher stressed that congregations are fiscally healthy only when they are doing mission in their community. In his presentations he offered some strategies that differentiate "rich" churches with a mindset of abundance from "poor" churches that make bad money decisions out of a worldview of scarcity. He also warned against profligate use of debt, a tool that he said could be both effective and dangerous.
In addition to keynotes by Aimee Laramore and Rev. Lucille "CeCee" Mills, the two-day event offered 13 workshops for attendees to choose from.
Related videos
Segment of Part 1 of Christopher Keynote