Workshops and Presenters

 Workshop Schedule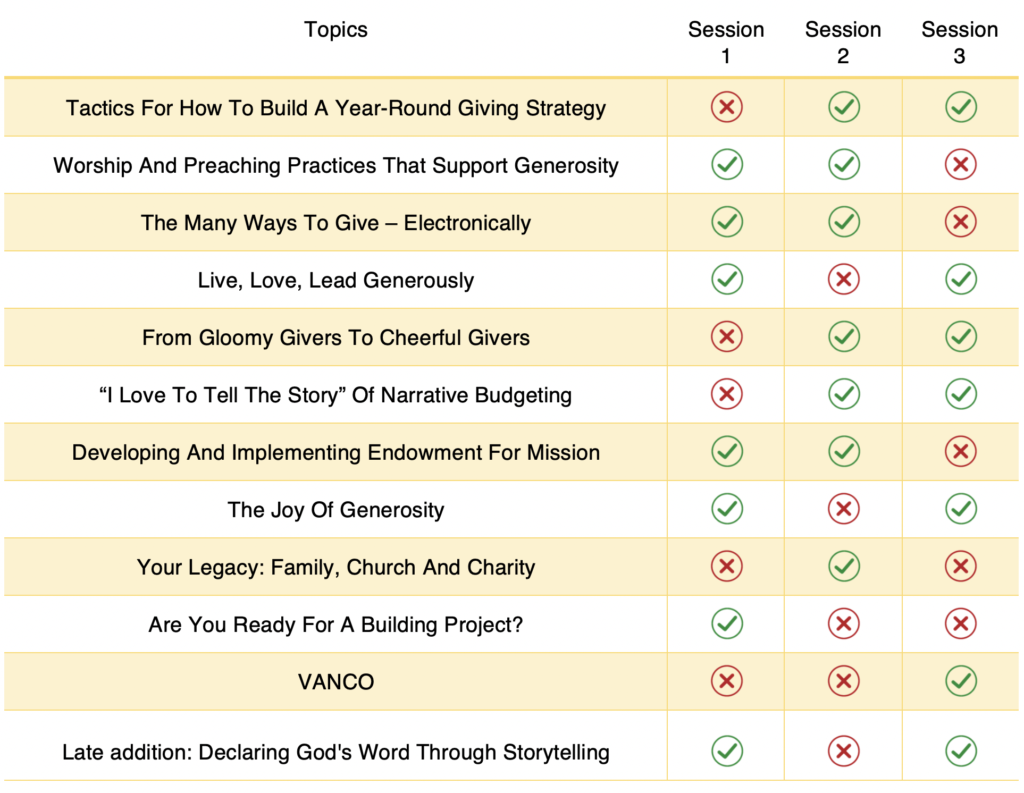 Descriptions
Click the presenter's name for biographical information.
---
Tactics for how to build a year-round giving strategy
Grounded in healthy practices for year-round giving and gratitude, we will examine the role of the religious community in building a healthy and prophetic vision for our collective relationship with money.  We will share the latest research about giving and offer an overview of the adaptive changes needed for successfully resourcing mission, including practical wisdom and tools. Sessions 2 and 3
Aimee Laramore

Aimée is a passionate teacher, trainer, consultant, and coach with more than two decades of experience.  Mrs. Laramore embraces taboo topics, inclusive of money, finance and budgeting, with a deep commitment to understanding the intersection of faith and giving.  

As Owner/Lead Consultant for ALlyd Image Solutions, a boutique consulting firm dedicated to building organizational capacity and effective development practices, Aimee has also served successfully in leadership roles throughout a variety of mission driven agencies across the country. She has worked with congregations in rural and urban settings, across denomination and socio-economic structures; and has an astute understanding of the role theology, executive leadership styles and diversity play in philanthropic infrastructure.  Her experience in faith-based institutions offer a series of lessons to be learned including exploring electronic giving, making an ask, learning and planning, 365 development frameworks, evaluation cycles and celebration of generosity and more. 
---
Worship and Preaching Practices that Support Generosity
Watch for updated information. Session 1
The Rev. Lucille "CeCee" Mills

"CeCee" grew up in Greensboro, N.C.  She completed her seminary studies at The Lutheran Theological Center in Atlanta, Georgia. Ordained on March 20, 2004, she served her first ten years of ministry in the Virginia Synod. She currently serves as Program Associate Director for African Descent Ministries for the ELCA as deployed staff from its headquarters in Chicago, Illinois while also serving as both Associate Director for Evangelical Mission and interim pastor in the North Carolina Synod.
---
The Many Ways to Give – Electronically
Consider North American realities today: smaller percentages of people worship regularly, the number of non-profits competing for donations has expanded to 1.5 million, and people are using cash and checks less and less.  What are the implications for organized religion and traditional models that resource congregations through Sunday morning offerings? How might we reimagine stewardship, including how we fund ministry, through the use of smartphone apps, online giving tools, and other ways of receiving donations? Join us as we discuss these opportunities and challenges, and more. Sessions 1 and 2
Steve Oelschlager

Steve Oelschlager is the stewardship program coordinator for the Evangelical Lutheran Church in America as well as the director of engagement and generosity for Holy Cross Lutheran Church in Libertyville, IL.  He has spent over 20 years as an entrepreneur, offering consulting and marketing communications services, and his whole life as a lay person and leader in the Lutheran church. He is energized by ideas about life, faith, religion, and money among other things, and hopes to be a teacher and leader of life-giving change through his work.
---
Live, Love, Lead Generously
This workshop is about strengthening pastors and lay leaders who struggle with personal and household finances and have difficulty claiming their role as a steward leader within the congregation.  To that end we seek to address matters of financial literacy, environments characterized by love and gratitude, and changed saving behaviors. Sessions 1 and 3
The Rev. Scott Schantzenbach

Pastor Schantzenbach provides leadership and counsel in the areas of stewardship, ministry transitions, and currently directs the EMU (Excellence in Ministry, Unleashed) initiative. He supports pastors and aids congregational exploration of ministry pathways in a rapidly changing world.
---
From Gloomy Givers to Cheerful Givers
We could build a new sanctuary if we had a dollar for every stewardship campaign that pulled out Paul's old chestnut from 2 Corinthians 9:7b, "God loves a cheerful giver." Fact is, many of our congregations face gloomy givers, and here's the truth: It's not entirely their fault. Givers and potential givers are often turned off by our ham-fisted campaigns that push the buttons of guilt and shame and duty. In this workshop we look at what really motivates givers and how to craft campaigns that will encourage cheerful giving. Sessions 2 and 3
The Rev. Rob Blezard

Pastor Robert Blezard serves as a congregational Stewardship Consultant, providing education, resources, training and workshops to Lower Susquehanna Synod to the ELCA, as well as leading efforts in synodical Mission Support development. He also coordinates our synod's mobility process and works on leadership development.
---
"I Love to Tell the Story" of Narrative Budgeting
Budget documents are mission documents. They tell the story of the work God is doing in and through your congregation. But some people get stuck in the columns and columns of numbers. The connection between offering and mission gets lost in arithmetic. Instead, connect God's story to your congregation's story and your donor's story. Learn how to tell the story of your ministry in ways that get people excited to read the budget. Sessions 2 and 3
The Rev. Karen Sease

The Rev. Karen M. Sease serves as Assistant to the Bishop for Vocations and Leadership / Mission Advancement in the Southeastern Pennsylvania Synod, ELCA. She has used her gifts for leadership and storytelling with the Evangelical Outreach team, the Generosity team, and the Lead team of the Forward Together in Faith campaign of the Synod. She has supported many who are listening for God's calling through the seminary admissions process and through discernment retreats. Pastor Sease is passionate about raising up leaders that will seize the opportunities facing the Church.
---
Developing and Implementing Endowment for Mission.
This workshop will share how Reformation, Media developed the Endowment Fund, and how the mission focus of the fund has sparked congregational generosity.  The presenter will also show how they established their "1517 Society", encouraging members to leave a planned gift to the congregation. Sessions 1 and 2
John Pritchard and Gary Kamin

John has been a member of Reformation Church in Media for 30 years. He and his wife Sue raised their son and daughter in the church and have both been active leaders over the years. John has served 12 years on Church Council, 14 years on the Finance Ministry, serving as the leader for 8 years; he has led capital campaigns, pastoral transition teams and led the call committee for an associate pastor. One of his first "jobs" was trustee of the Reformation Evangelical Lutheran Church Endowment Committee. His first term began in the early 1990's. In his second 10 year term he helped rewrite the Endowment Bylaws. And he is now in his third 10 year term.

Gary has been a member of Reformation Church in Media for 60 years. He and his wife Betsy raised their son and daughter in the church and have both been active leaders over the years. Gary has served two 6 year terms on Church Council, Chair of the most recent pastoral call committee, and 16 years as an Endowment Trustee.  Gary is currently the church's financial secretary, with the responsibility for all data entries for the membership contributions and tabulating pledge campaign information.  During his first term as a trustee of the Reformation Evangelical Lutheran Church Endowment Committee, he helped rewrite the Endowment Bylaws. And he is now in his second 10 year term.
---
The Joy of Generosity
Rick and Cindy will share what led them to start tithing in the church after a number of years of just going through the motions of giving, and why it is important to tithe and be good stewards. They will discuss the joys and blessings that generosity has brought to their family and their church family over the years and how tithing can be set up in your family budget.  Citing scripture and their conviction that "everything belongs to God," they will give participants ideas on how they can become more generous right now. Sessions 1 and 3
Rick and Cindy Eberts

Rick is a graduate of Moravian College and received his masters at Lehigh University.  He has been a sales representative in the heavy-duty Transportation Industry since 1985.  He is a long- time member of St Andrew's Lutheran Church, Perkasie, PA, where he serves on the Church Council and heads the Evangelism & Stewardship Committees.

Cindy is a graduate of Bucknell University and also received her masters at Lehigh University. She taught German in the Palisades School District for 7 Years and worked with the Bucks County Intermediate Unit as a Classroom Aide from 1996-2003.  She served 4 terms on St. Andrew's Church Council, including 1 term as President.
---
Declaring God's Word Through Storytelling
"We are church together for the sake of the world."  How many church members are aware of the many levels of ministry in our synods and the church at large that are supported through their mission support giving? At this workshop you will learn the benefits of having a mission interpreter in your congregation to tell inspiring stories of how their giving is making a difference for God's mission. Here are just a few benefits: supports Pastors in sharing the stories of their congregations, synod and the ELCA and helps congregations to understand the way their resources are transformed into mission and ministry. Join us at this workshop to find out more about why a Mission Interpreter is an important part of how you can connect your congregation with the amazing ministries they support. Sessions 1 and 3
Charlotte Gross and Georgia Suranofsky

Charlotte Gross has been involved with Mission Interpreter ministry for several years, and now enjoys coordinating this ministry jointly with Georgia Suranofsky for NE PA Synod.  Charlotte is a member of Lutheran Church of the Holy Spirit, Emmaus, PA, serving on the Stewardship and Global Missions Teams. Charlotte is a Financial Professional with Thrivent Financial in Allentown, PA. She lives in Emmaus, PA, with her husband Jeff, and they are the parents of two children and two grandchildren.

Georgia Suranofsky has coordinated the Mission Interpretation Ministry for 8 years and now works side by side with Charlotte Gross, as the co-coordinators of the ministry for the Northeastern Pennsylvania Synod. Georgia is a member of Prince of Peace Evangelical Lutheran Church, Bangor, Pa. She is vice-president of the congregational council and chairs the stewardship committee. Georgia is retired and lives in Easton, Pa. with her husband John. They are parents of 4 sons and 11 grandchildren.
---
Your Legacy: Family, Church and Charity
It doesn't matter if you are a Lehigh Valley farmer, Chester County commuter, or church leader from Philadelphia and the suburbs – if there are people or causes you care about, we can help you uncover ways to enrich their futures and unleash your generosity. Join us for a presentation brought to you by Thrivent Financial, a not-for-profit membership organization of Christians. While many financial firms see money as a goal, we see it as a tool to help the people, causes and communities you hold close to your heart. Learn how we can grow generosity in your congregation. Session 2
Michael Ghelardi

Michael has been a Thrivent Financial Advisor since 2013.  He has several certifications and licenses, including Certified Financial Planner.  He is a member of Temple Lutheran Church, Havertown and has been active with Thrivent Builds and Habitat for Humanity.  He has led or participated in 50 Thrivent Action Teams to support his community.  He is married to Amy and they have two children.
---
Are you ready for a building project?
Many Congregations want or need to do a renovation of their facilities, in light of a changing Church. This seminar will discuss many of the aspects of a building project, from planning to financing. Session 1
Gerry Lauro

Gerry Lauro has been a regional manager at the Mission Investment Fund for the past six years, serving Congregations with financial advice and services. Prior to that he spent 38 years on Wall Street primarily in equity trading and sales for a number of firms, including hedge funds.  He received his undergraduate degree at St Lawrence University and his MBA at Pace University.
---
How VANCO Helps
Vanco works with over 22,000 churches to help them communicate with their members about their missions and the ways their church members can support their missions.
Richard Bauer

Richard supports ELCA churches nationwide by serving as Vanco's only eGiving Ambassador. Whether he is participating in a synod assembly, visiting a local ELCA congregation or being featured on a Vanco hosted webinar, Richard shares stories of how eGiving and the GivePlus Suite of giving resources are positively impacting the financial health of the over 4,000 ELCA congregations that Vanco serves.
---