ELCA Partners to Aid Refugees in Europe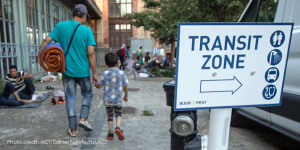 As Europe continues to absorb hundreds of thousands of migrants from the Middle East this summer, the Evangelical Lutheran Church in America (ELCA) is working with Lutheran companion churches and partners in Europe to assist people seeking refuge now and to meet their future needs.
In a Sept. 9 "e-Alert" to ELCA members, the Rev. Daniel Rift, director of ELCA World Hunger and Disaster Appeal, wrote that "as a church, we are called to respond. Lutheran Disaster Response is committed to meeting basic humanitarian needs and upholding the rights of those fleeing war and crisis."
Working with companion churches, such as the Evangelical Lutheran Church in Hungary (ELCH) and the Slovak Evangelical Church of the Augsburg Confession in Serbia, and with The Lutheran World Federation (LWF), ELCA members are providing food and other materials to "assist those who have fled their homes," wrote Rift. "We are also in communication with our church companions in Germany, as they receive tens of thousands of refugees."
The bishop of the Lutheran church in Hungary, the Rev. Tamas Fabiny, has said that the denomination is working to "promote a culture of mutual respect, inclusion and love" among refugees entering Budapest, according to the Rev. Cindy Halmarson, ELCA area program director for Europe, the Middle East and North Africa.
"The ELCH is our companion in this country that is on the migration route of asylum seekers from Syria, Afghanistan, Iraq and northern Africa," said Halmarson.
"Through partnership with Hungarian Interchurch Aid, the ELCH has been participating in activities providing help to migrants, including the collection and distribution of clothing, blankets, bandages, sleeping bags and mats. In cooperation with the Lutheran Student Home, the ELCH is offering 150 daily hot meals to migrants gathered around the main railway station. The Diaconal Service of ELCH is donating medicine to migrant children in need through the Hungarian Association of Family Pediatricians. Information books have been published in Farsi, Urdu, Arabic, French and English and distributed for the orientation of migrants. ELCH is seeking support from the Migration and Integration Fund of the European Commission for a 'House of Integration' for longer-term support," reported Halmarson.
In Serbia the ELCA has partnered with two organizations associated with the Slovak Evangelical Church of the Augsburg Confession in Serbia, said Halmarson.
"Asylum Protection Center has already provided free legal aid to more than 1,000 asylum seekers this year," she said. "Many more are expected. In addition they provide humanitarian assistance and psychosocial support, and they advocate with the Serbian government for a more comprehensive response to the flow of refugees into and through Serbia."
"Church World Service is offering immediate support to asylum seekers in Belgrade, Miratovac, Presevo and elsewhere," said Halmarson. "Our companions are seeing an increase in vulnerable people crossing the border (mothers pregnant and/or with small children, people who are stranded, fainting, dehydrated or ill) and growth in the number of people camping out in parks and public areas. In partnership with the Red Cross, meals are distributed in Bujanovac, a poor community where refugees gather after crossing from Macedonia."
"As winter approaches and the usual travel routes become blocked, shelter will be required for those refugees who are unable to reach their goal of entry into Germany," said Halmarson.
Information about Lutheran Disaster Response is available at www.ELCA.org/disaster.
— ELCA News Service