Faith formation, Faith in action, Mission, Worship
February 9, 2016 in
'Dust Is Not the Final Word'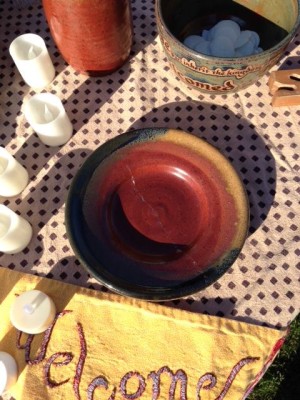 The crosses marked on our foreheads on Ash Wednesday are signs of both life and death. The ashes suggest our eventual return too the dust, but "the dust is not the final word," says Welcome Church Pastor Violet Little.
At an Ash Wednesday service on Logan Park in 2013, Pastor Violet told her flock "What these ashes say on our foreheads is that, even in the worst part of our lives, we are not alone."
The service featured a moving poem about homelessness by Tyrone Woodward, and a moving testimony to God's continued presence. Watch highlights on videos embedded below.
"Sometimes, we can look one way on the outside and nobody knows what's going on inside," Pastor Violet said in her brief homily. "The face we put on for other people isn't necessarily what is going on inside.
"But today we try to say, you know what, this outside mark is what is going inside. I know that I am not alone, that I am loved, and that I was from the earth shaped by the hands of a God who loves me. … And the dust is not the final word."