Dr. Osterholm: A Whole New Ballgame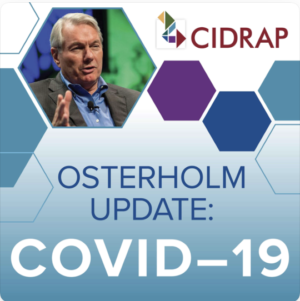 Last week was the single worst week for pediatric COVID cases since the start of the pandemic, with more than a quarter-million new cases diagnosed, epidemiologist Michael Osterholm said on Thursday's edition of his podcast. Cases among children aged 0-17 account for 30 percent of all cases in the U.S., he said.
Cases among children aged 15 and under are higher than the peaks seen during January's surge. New hospitalizations among children aged 0-17 last week were nearly double the winter peak. In the Southeast, pediatric hospitalizations are nearly double the national average. Twenty-three percent of all deaths of children have occurred in the last month.
"I fear the worst is yet to come," Osterholm said.
These trends are informative for churches in determining how to proceed with early childhood education and daycare programs, as well as including unvaccinated adults and children in worship and faith formation activities. Evidence shows that there have been an increasing number of school closures, now in 38 states, that typically occur 3-4 weeks after classes resume, Osterholm said.
While public attention has been focused on masks, Osterholm said that proper masking with high-quality N95 equivalents must be layered with concerns about vaccinating more adults and children, reducing the density of people in the space, and providing adequate ventilation.(Consult an HVAC professional to determine specifics for your space.)
Listen to the full podcast (Discussion of schools starts at approximately 28 minutes in.)