Cyclists' three R's of hunger – revelation, revolution and revenue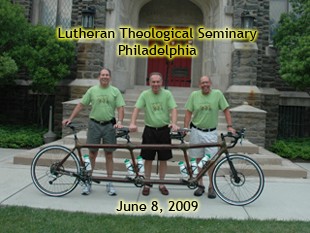 By Bob Fisher  Photos by Rev. Jesse W. Brown
The Tour de Revs, three friends' 13,000 mile trek on a bamboo bicycle to raise awareness of world hunger, is about three "revs" – revelation, revolution and revenue.
In a world where the richest 20 percent of the population consumes nearly 80 percent of the goods and services, and billions live on less than $2 a day, God's word to Israel that "there shall be no poor among you" offers US Lutherans a chance to make a big difference in global suffering.
That's the vision that inspired the three Revs – Fred Soltow, Ron Schlak and David Twedt, all pastors in the West Virginia-Western Maryland Synod – to spend two years planning a 100-day trip through each of the ELCA's 65 synods to drum up support for the church's ambitious – and never realized – goal of raising $25 million annually for its World Hunger Appeal.  Their tour began at the ELCA headquarters in Ma and will wrap up at the Churchwide Assembly in Minneapolis in August.
Soltow and Schlak shared their stories and their passion with a small group at their Philadelphia stop at the Lutheran Seminary June 8.  (Twedt had to leave the tour briefly for a family emergency, and was covered by a relief rider.)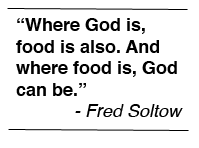 Twedt and Soltow had ridden around their synod before raising funds to buy bicycles for pastors in a companion church in Madagascar.  Two years ago the three friends had lunch and "walked away from the table dreaming about this bike ride," Schlak said.  "Pretty soon we started getting phone calls from people who wanted to sponsor us," he said, and a backer offered to foot the $10,000 bill for the custom made, one-of-a kind bamboo bicycle built for three (a triplet in cycling parlance).
"That's when we realized we had stumbled into something much bigger than us," he said.  "From the very word go this was God's idea."
"I'm the alpha male up front, and for me it's all about the athletic achievement," added Soltow, a 1974 graduate of the Mt. Airy seminary.  "But we weren't into this very long when we realized that this was God calling us, and this was God's plan, and we're it. I'm humbled and proud to be it."
This sense of call led the trio to study hunger issues in earnest, re-reading familiar passages of scripture in the Poverty and Justice Bible, which highlights the hundreds of verses dealing with God's people's relationship with the poor in bright orange.
"When I read all the highlights, I understood God's calling about who we are as a people of God in a very different way," Soltow said. "And that was a true revelation to me. And it has been for all three of us."
Reading those 2,100 verses that deal with justice and poverty, Soltow said, "you realize a direct correlation between God's grace, God's love and God's mercy, and food. Wherever God is talking about justice and love and mercy, so often food is involved. Whether you are sharing the meal of the Lord's supper, whether you are having a dinner after worship, our motto has come to be, where God is, food is also. And where food is, God can be."
The group decided to support ELCA's World Hunger Appeal, Schlak said, because the appeal engages in "comprehensive ministry" to find sustainable ways to help lift people out of poverty, rather than simply feeding them.  Also, the ELCA hunger fund directs 93 percent of donations to recipients, a much higher percentage than most comparable charities, he said.
God's instructions to his people in Deuteronomy 15 has a particularly strong impact on Schlak. "Before they even go into the (promised) land, this is the word of the Lord: 'There will be no poor among you,'" he said.  Even though he had written papers on this passage in seminary, the highlighted text, read through the lens of hunger, struck him anew.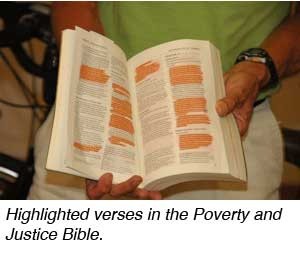 "You could be the worst farmer in Israel, and you can screw up year after year, and your neighbors still had to cover you, and they couldn't grumble," he said.
"They had to make room for you to work in their fields, and when your term of bondage was over, they had to give you animals, and grain, and wine – so you had your dignity. And you still had your land.  Because it's God's land. The land was there to serve God and God's people."
The lesson has clear parallels to our current economic situation, Schlak said.  "No matter how many times it takes for someone to learn not to be poor, the system has to work so there shall be no poor."
So the Revs are touring the country, reminding anyone who will listen – in churches, food pantries, and along the roads – that it doesn't take a big sacrifice to make a big difference.
If each of the ELCA's nearly 5-million members donated $5 a month to the World Hunger Appeal, Soltow said, the elusive $25-million goal would be met in just one month. If members made that giving regular, the church would raise nearly $300 million a year. "And who of us would really notice $5 per month?" he asked.
Schlak invited audience members to help paint a living picture to flesh out the cold statistics about global hunger and poverty.  He invited 5 people to represent the word's 6 billion inhabitants, and used five Hershey bars to represent the world food supply.
To one person, representing the residents of wealthy countries such as the U.S., he gave four of the bars.  Two others, representing developing nations such as China and India, shared three-fourths of the last bar.  The last two people, representing the poor of the underdeveloped world, where most live on less than $1 per day, shared the final quarter.
"What can you do about this?" Schlak asked.  The volunteer who had received four bars turned and handed all of her candy away to the others.  And immediately, the group started trading to try to equalize their supplies.
"When you start to share, there will always be a reaction," Schlak said.
"In 2,100 verses God is telling us we have to care for God's people," Soltow said.  "And think…even a little gift can make a big difference."