COVID Updates
COVID: "More Confusing Times"
In his August 24 Update podcast, Dr. Michael Osterholm said that even though there is concern that cases are rising and new variants are developing the, world is not likely to see the major viral surges that occurred with the original COVID, Delta, and Omicron. But it's not time to be complacent. Precautions including staying up-to-date with boosters and wearing N95 respirators in public will help many older, younger, and at-risk people stay safe waiting for the next-generation COVID booster this fall and hopefully avoid Long COVID, which has brought sickness, disability, and death to tens of millions of people worldwide.
His vaccine advice: If you are eligible, get the vaccine for RSV as soon as possible. Get the new COVID booster, likely coming in September, when you are eligible. Get the influenza vaccine when flu activity increases in the US or your region.
Some good news:
We have had reduced COVID activity, hospitalizations and deaths for most of this year.
Trends are creeping upwards in the US now.
In Omicron we were seeing ~600 deaths a day, as of July ~60 deaths a day.
Some caveats:
Long Covid is real. So far finding increased LC symptoms and increased chance of death for 90 days to >2 years after infection. Affects tens of millions of people, and there is a lot we don't know.
Testing, monitoring and sequencing are way down. As scientists are studying the effects of the highly-mutated B2.86 variant, only about 9,000 sequences are being analyzed daily, compared to more than 300,000 in January 2022 (Omicron).
COVID still has tricks up its sleeve. It is still mutating, with the possibility of more dangerous variants developing.
Some conclusions:
Osterholm does not envison more surges like the ones we saw in 2020, 2021, and 2022. But we will have to live with unpredictable waves. COVID is seasonal in that it occurs in every season, he said.
This does not mean we should be complacent. Humility: no one knows yet what will happen with new variants.
People who are prone to severe disease because of age or underlying conditions are wise to continue taking precautions, especially until they are eligible for the new booster.
Wearing an N95 respirator is a good idea for many older, younger, and at-risk people when there is increased COVID circulation.
Don't give up on the basics:

Wash hands
Stay home if you feel sick or have been exposed to someone who is
Keep your distance
Bring in fresh air
On the vaccines:
The new COVID booster should be available in mid to late September. Get it as soon as you are eligible. While protection against infection drops off in 4-6 months, protection against severe disease lasts longer.
Get the RSV vaccine soon, if you are eligible.
Get the annual flu vaccine when you start hearing about flu activity in your region. Currently there is no flu activity reported in the US.
Things churches can do to help slow COVID transmission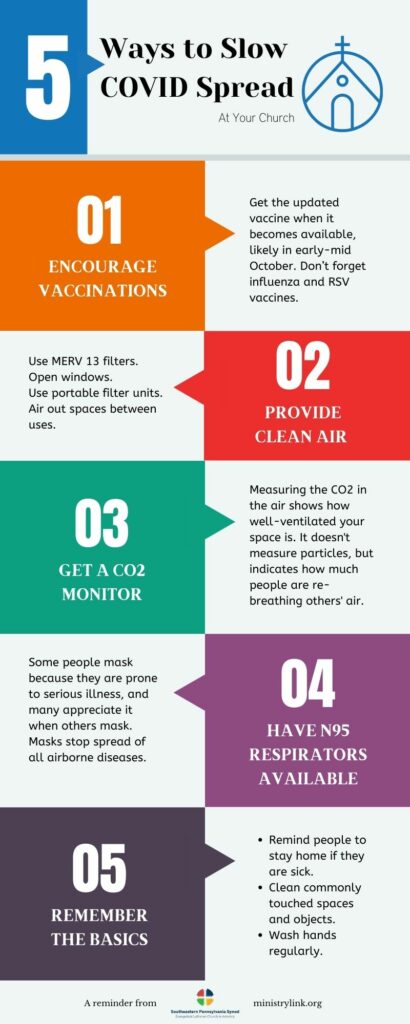 Encourage vaccinations. CIDRAP's Dr. Michael Osterholm urges everyone eligible to get the updated vaccine when it becomes available, likely in early-mid October. Don't forget influenza and RSV vaccines: He recommends getting the RSV vaccine now and getting the flu shot once your area starts showing flu activity.
Provide the cleanest air that you can. COVID spreads significantly via airborne transmission. To offset this, have the highest level of filtration possible installed in your HVAC systems (MERV13 is recommended). Also set the system to bring in outside air to increase ventilation.
If you don't have a forced-air system, don't worry. Opening windows wide and positioning fans will increase ventilation. If you don't have air filtration, inexpensive, DIY filters called Corsi-Rosenthal boxes after their inventors, can clean indoor air from airborne virus particles, wildfire smoke, pollen, dust, and more. It is also a good idea to open windows and run systems on high to ventilate a room between classes, meetings, and services.
Get a CO2 monitor. These monitors, such as the Aranet4, are portable and can be used to measure the level of CO2 in room air. High concentrations of CO2 can cause drowsiness and lack of focus (such as dozing off during sermons) and shows how well ventilated your space is. Hi levels of CO2 indicate that occupants are breathing more of each other's exhaled breath, increasing the likelihood of spreading airborne viruses such as flu, RSV, and COVID. Some manufacturers also offer multi-room systems that can let you keep track of air quality across your facility.
Make N95 respirators available for those who want them. Yes, this is a hot-button issue. It's doubtful we will see or impose mask mandates again. Some people with conditions that pre-dispose them to more severe diseases will feel safer masked, and many appreciate it when others mask as well. Make it normal to wear a mask in your church.
Masks work. Forbes magazine reported that the business and political leaders and other celebrities who attended the World Economic Forum in January – as well as staff were subject to strong COVID precautions, that included masks at some events.
Remind people to stay at home if they or close contacts are sick. This includes rostered ministers and other worship leaders.
Clean commonly touched spaces and objects (for example, communion vessels) between services.
Wash hands regularly. Have stations with hand sanitizer available several places in your facility.
COVID: Not a new "surge" (yet)
As the summer draws to a close, the press has started talking about COVID again, and they are not all on the same page. Here are some things we know with relative confidence.
While we are near what he calls the "back-end" of the emergency, the University of Minnesota's Dr. Michael Osterholm says experts know that the virus still has some tricks up its sleeve.
The EG.5 variant, labeled a "variant of interest' by the World Health Organization, now accounts for the largest number of cases in the U.S., Osterholm said on the August 10 episode of his podcast. Cases are not being counted accurately in the US, but data on COVID-related hospitalizations and deaths show that, while rising, they are below the numbers for the troughs that followed several of the major COVID peaks since 2020.
He also reported that, thus far, there are no indications that EG.5 causes more serious illness than the Omicron variants from which it is descended.
Right now, the key is to watch activity in your area and respond appropriately.
---