Convocation focuses on 'financial sanity'
By Bob Fisher
"If you don't have a values based way to think, talk and do money, you will default to the culture's: See money, spend money," Share Save Spend founder Nathan Dungan told the 2009 SEPA Bishop's Convocation on Wednesday.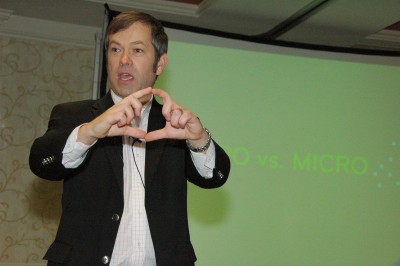 The faith community has a wonderful story about money, Dungan says: "The choices we make with our money can change the world."
But the church has often dropped the ball, failing to help members explore the ways their financial decisions affect their lives, their neighbors and the world, Dungan says.  Families – in and out of the church – also struggle to help impart responsible money skills and literacy to their children.
The former Lutheran Brotherhood and Thrivent executive formed Share Save Spend to help congregations and families teach "financial sanity," which he defines as "healthy money habits based on faith and values."
Dungan is one of three keynote speakers at this year's convocation, which focuses on "The Last Conversion: Head, Heart and Wallet." The title is drawn from Martin Luther's observation that "there are three conversions a person needs to experience: The conversion of the head; the conversion of the heart; and the conversion of the pocketbook."
Rostered leaders engage in small-group discussion about faith and money.
Dr. David Lose of Luther Seminary is offering biblical reflection and Dr. Katie Day of the Lutheran Theological Seminary at Philadelphia is exploring ways that congregations can discuss "hot-button" issues of finances in a safe and respectful way.  The Bishop's Convocation is an annual continuing education event for the synod's pastors and lay rostered leaders, held in Lancaster, PA.  About 100 rostered leaders are attending.
Dungan embarked on his fiscal-educator path some years ago when he received a request from St. Andrew Lutheran Church, Perkasie, to help develop a curriculum to link money habits, stewardship and making a difference in the world.  Dungan's firm now produces common-sense resources to help teach congregations and families link their faith values and their financial affairs.  His work has been featured on American Public Radio's "Speaking of Faith" and other media, and he has presented with Sojourners' founder Jim Wallis and the Archbishop of Canterbury. He is the author of "Prodigal Sons and Material Girls: How Not to be Your Child's ATM" and other books and resources.
Praise and worship at Wednesday night's worship service.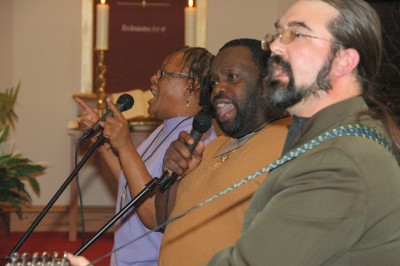 "The culture wants us to look through a telephoto lens, to put on blinders and zoom in. 'It's all about me,'" Dungan said.  "I'm asking us to put on a wide angle lens, to look out into the world and ask 'What am I being called to do?'"
While the 28 million US teens spend nearly $78 billion each year on transportation, movies, music and other entertainment, the UN estimates that 125,000 African children die each year for lack of a $10 mosquito net, Dungan said. And while 85% of parents report teaching children to save money, only 34% say they teach about paying bills – and 10% report not teaching children anything about money, he said. Interestingly, in such surveys teaching about sharing does not appear in the responses, he noted.
In this environment, "churches have a huge opportunity," Dungan said, "but we have to step into it."
Share Save Spend works with congregations, synods/dioceses and other groups to help create ways for churches and families to have multigenerational conversations about money and its uses.  Dungan challenged the SEPA leaders to find ways in their congregations and communities to have conversations about healthy money habits and to use the current economic crisis as a "teachable moment" to assist youth and adults in faith formation.
"We have to cast a vision, to reshape the landscape of money habits and values, so we can ask, 'What is possible?'" Dungan said. "It falls to us (in the church) to seed the conversation."
Bob Fisher is assistant to the bishop for mission interpretation. Photos by Rev. Jesse Brown.