Can You Help Pay Food Forward in Philly?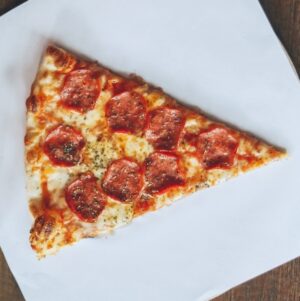 The Welcome Church Community is seeking to launch Pay It Forward Philly, a simple plan to help Philadelphians share food with one another. Welcome Church envisions a citywide campaign inviting businesses and vendors to offer a product(s) of their choice to folks who cannot pay. The cost of the products would be covered by inviting customers to pay an additional fee when they make purchases.
The concept was inspired by Mason Wartman, owner of the former Rosa's Fresh Pizza in Center City and West Philadelphia. Customers at Rosa's were invited to add an additional $1.00 to their purchase and in turn they received a "sticky note" where they could write a message to an unknown customer. The sticky notes were placed on a wall and made available to anyone who was hungry but did not have the cash to pay for a slice. Folks would simply enter Rosa's, grab a sticky note, and hand it in for a slice of pizza. Sadly, Rosa's is now closed due to high competitive prices.
If you or someone you know operates a food-related business in the city, you can help make sure that food is available to residents who are food insecure, provided in a dignified way that includes choice and a known welcome.
To find out more about participating contact Pastor Violet C. Little by email to .
Benefits of the program could include:
Vendors and paying customers experience the joy of giving and sharing.
Vendors would be known for their goodness behind their business which could only grow their business.
Relationships could be built between those who might be unhoused and hungry knocking down stereotypes.
Panhandling and even theft could decrease.
Philadelphia could be known as a true city of "Sisterly and brotherly love" (based on the true translation of the Greek adelphois).
The project could involve college students involved in marketing, social work, public health or other related areas (e. St. Joseph's Food Marketing Academy)
Participating vendors could have a sticker in their window identifying them as part of the "Pay it Forward" Network
— Violet Cucciniello Little, Schaunel Steinnagel, Rachel Gucwa and The Welcome Church community