Bishop, Bishop messages, Faith in action
May 5, 2017 in
Bishop: We are Called to Racial Reconciliation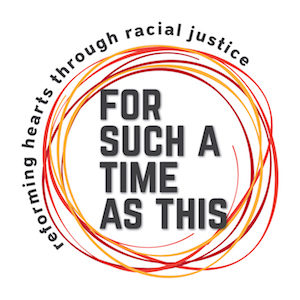 In her sermon opening the 2017 Assembly, Bishop Claire Burkat expressed her confidence that members and congregations of the Southeastern Pennsylvania Synod are ready for conversation around racism and to do the work of racial reconciliation.
Recalling the recent powerful reconciliation work with the Mennonites, inspired by the anticipated 500th Anniversary of the Reformation, the bishop invited the synod to be heartened for the work ahead.  Recalling the powerful words of the Apostle Paul, the bishop shared God's invitation to embody resurrection in our relationships. And the support God offers as we do this.
"Everything old has passed away; see, everything has become new! All this is from God, who reconciled us to himself through Christ, and has given us the ministry of reconciliation; that is, in Christ God was reconciling the world to himself, not counting their trespasses against them, and entrusting the message of reconciliation to us."
Sharing a personal story around racial reconciliation that opened her eyes to the power of speaking and listening to truth buried in pain, the bishop invited worshippers to hold the stories of others as gifts and as "Christ moments."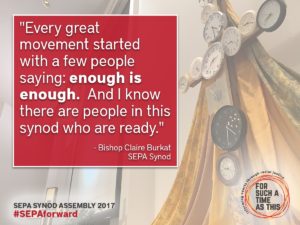 "Christ-moments aren't Hallmark moments or cross-stitched pillow mottos. They are real moments of gut-wrenching realization that open our eyes on the Emmaus road. Like the disciples seared by the sight of the risen Christ as they shared a moment of heart-felt truth, I can look at that moment with [my friend] and say, 'Was my heart not burning within me as she was talking to me on the porch?' It was a kairos moment when the Divine truth intersected with our very human reality."
Casting a vision for what might be possible as we engage this work faithfully, the bishop invited the synod to remember the roads we walk together.
"We are on this road together to disrupt the system of evil by having the courage to address the complexities of race, class, and ethnicity. We are on this road together to proclaim that Christ changes everything. We are on this road together to make it plain: resurrection is borne out of cross-shaped pain that is transformed by God into new life." — Rev. Katherine Knodel
From the Bishop's Sermon
Let me share with you a bit of my own story of racial reconciliation.
For me, it's about relationships. Maureen is one of my very close friends. Like many friendships it started almost 30 years ago when we lived across the street from each other in Melrose Park. Her son Matt and my son Alex grew up together, they are still friends, and Alex said they got together just last week. They always played well together, and often slept overnight at each of our houses. Maureen and I enjoyed watching them over the years. One was arty and one was geeky. Both were playful, kind funny, and smart boys.
But one day when they were about 12 or 13 years old, Maureen and I were sitting on the porch watching them play video games, and I said something like,  "Look at our boys. They're clueless about adolescence – all the temptations they'll face. All the struggles they'll have as they grow into becoming young men."
"Yes," said Maureen. "But what my son Matt doesn't know could kill him. (Maureen and her family are Black.) I'm worried for his life. I have to explain to him that if he makes a mistake and gets in trouble, it could get him killed. If he is in the wrong place at the wrong time, it could get him killed. If, when he starts driving, he gets pulled over for speeding, it could get him killed. If he's out on the street when the another Black man has committed a crime, it could get him killed. If he says the wrong thing, or makes the wrong move, it could get him killed. Claire, your son Alex will never have to worry about that."
What she said hit me very hard. I didn't know what to say.It hurt me to hear what she had to tell me. But I never forgot it. And I count it as a great honor that my friend loved me enough to tell me the truth of her life, of her experience. She gave me "the talk" – and she did that out of love.
Here's what I learned that day.  Receiving another person's truth – another person's pain – is actually a gift. If they trust you enough to share it with you, this is one of the highest honors you can receive.  I look back at that moment now through the lens of reconciliation and I realize that she was sharing a Christ-moment with me.