Bishop Preaches at World AIDS Day Service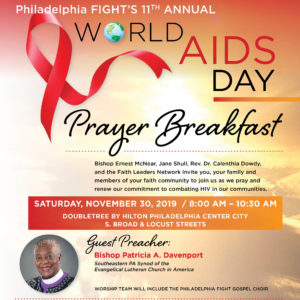 Bishop Davenport will be the featured preacher at Philadelphia FIGHT's 11th Annual World AIDS Day Prayer Breakfast on Saturday, Nov. 30, 8 am, at the Doubletree by Hilton, S. Broad and Locust streets, Center City.
Philadelphia FIGHT Community Health Centers provide culturally competent comprehensive primary care, and state of the art HIV primary care to low income members of the community, along with research, consumer education, advocacy, social services and outreach to people living with HIV and those who are at high risk, including family members, communities with high rates of HIV, formerly incarcerated persons, and young people at risk; and access to the most advanced clinical research in HIV treatment and prevention.
If you have any questions or need assistance contact Jessica Rodriguez-Becker at or call 215.344.1625.